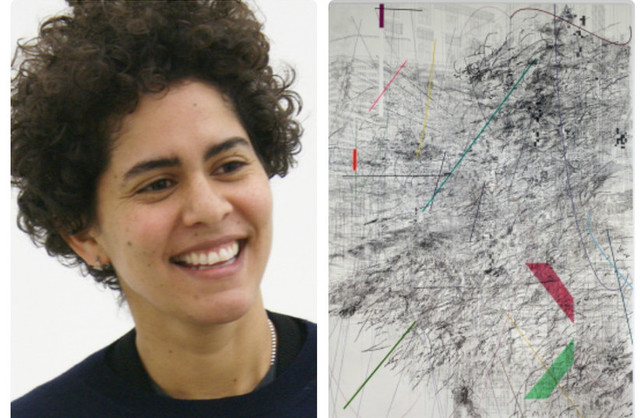 Tadias Magazine
Events News
Updated: Monday, April 29, 2013
New York (TADIAS) – There are two major upcoming solo exhibitions in New York and London featuring works by Ethiopian-born painter Julie Mehretu entitled Liminal Squared. The NYC event will mark the artist's inaugural show at the Marian Goodman Gallery, which is scheduled to open on May 11th and remain on display through June 22, 2013, while the presentation in England will take place at the White Cube Bermondsey from May 1st to July 7th, 2013.
"A series of new paintings will be on view as well as a suite of five new etchings," the announcement from Marian Goodman Gallery said. "The works were created over the past three years in New York in the aftermath of events of the Arab Spring which were the point of departure for the monumentally scaled Mogamma (In Four Parts), 2012, recently presented at Documenta (13), 2012, Kassel."
According to the gallery the paintings "follow a group exhibition In Praise of Doubt at Punta dell Dogana, Venice in 2011; and a recent presentation of her Mind Breath and Beat drawings at our Paris space in January-March 2013."
In London, White Cube gallery said it is pleased to present an exhibition by Julie Mehretu. "This is Mehretu's first major solo exhibition in London and will feature new and recent paintings, some of which will be presented within a specially constructed environment designed by David Adjaye in close collaboration with the artist," the gallery said in a press release. "Described by curator Douglas Fogle as 'perfect metaphors for the increasingly interconnected and complex character of the 21st century', Mehretu's large-scale paintings, which are built up in layers, employ a broad lexicon of drawing techniques together with a precise, muscular abstraction to investigate the intersection of politics, architecture and history and the way these forces shape the formation of our social identity."
Julie, who was born in Addis Ababa in 1970 and immigrated to the United States with her family in 1977, is one of two Ethiopian-born artists whose work is part of the permanent collection at the Museum of Modern Art — along with Skunder Boghossian. She has received numerous international recognition for her work including the American Art Award from the Whitney Museum of American Art and the prestigious MacArthur Fellow award. She had residencies at the Core Program at the Museum of Fine Arts in Houston (1998–99), the Studio Museum in Harlem, New York (2001), the Walker Art Center, Minneapolis, Minnesota (2003), and the American Academy in Berlin (2007).
Below is a link to a highlight of Julie's forthcoming New York and London show in Vogue Magazine.
Photos: Julie Mehretu in May 2013 issue of Vogue Magazine
—
If You Go:
New York
JULIE MEHRETU
LIMINAL SQUARED
MAY 11 – JUNE 22, 2013
Opening reception: May 11, 6-8 pm
MARIAN GOODMAN GALLERY
24 WEST 57TH STREET
NEW YORK, NY 10019
TELEPHONE 212-977-7160
FAX 212-581-5187
Email: Goodman@mariangoodman.com
Learn more at Marian Goodman Gallery.
London
JULIE MEHRETU
LIMINAL SQUARED
1 May – 7 July 2013
South Galleries, Bermondsey
144 – 152 Bermondsey Street
London SE1 3TQ
Learn more at White Cube.
—
Related:
Interview with Julie Mehretu (TADIAS)
—
Join the conversation on Twitter and Facebook