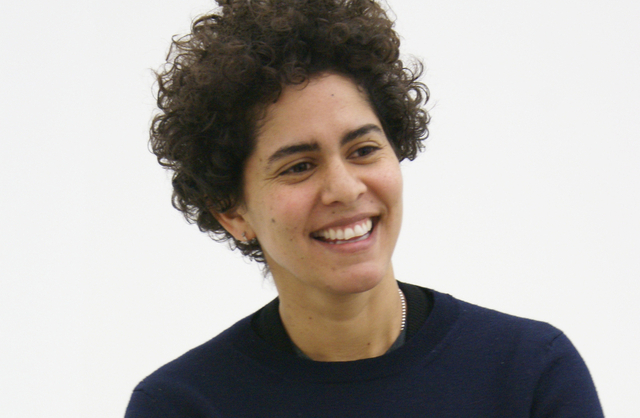 Tadias Magazine
By Tseday Alehegn

Updated: Friday, March 30, 2012
New York (TADIAS) – Julie Mehretu is one of the most celebrated contemporary artists in the United States, and one of two Ethiopian-born artists whose work is part of the permanent collection at the Museum of Modern Art. Julie, who currently lives and works in New York, has received numerous international recognitions for her work including the American Art Award from the Whitney Museum of American Art and the prestigious MacArthur Fellow award. She had residencies at the Core Program at the Museum of Fine Arts in Houston (1998–99), the Studio Museum in Harlem, New York (2001), the Walker Art Center, Minneapolis, Minnesota (2003), and the American Academy in Berlin (2007).
Julie was born in Addis Ababa in 1970 and immigrated to the United States with her family in 1977. Speaking about her upbringing Julie tells Tadias: "I was then raised in East Lansing, Michigan, where my father was professor of economic geography at the university and my mother a montessorian for young children." Julie completed her undergraduate studies at Kalamzoo College and her MFA at RISD. "I was always drawing and painting since very young," she said. "My parents always encouraged me to draw and pushed us to think differently." She added: Although, it wasn't until I was in graduate school that I really thought it could be possible to make a life as an artist. I think it is super important to realize that given a privileged circumstance you can craft a life like you can an object or a picture, with deep intention and vision."
What does she most enjoy about her work? "Making art is difficult and intense work that consumes all of me," Julie said. "Even still, I am so grateful and privileged that I am able to spend my time dedicated to painting and making art."
In celebration of Women's History Month, we asked Julie who her female role models are. "My mother, Doree Mehretu, my sister Neeshan Mehretu and my partner Jessica Rankin," she shared, adding a few practical tips for young women who want to follow in her footsteps: "Work hard, don't hesitate, and trust your intuition. Take deep care of your work and it will take care of you."
—
Correction:
We have updated this story and made the following correction: Mehretu is one of two Ethiopian artists whose work is part of the permanent collection at MOMA. The other artist is Skunder Boghossian.
Click here to watch Video of Julie Mehretu from Art 21 Season 5 Preview.
Related Women's History Month Stories:
Interview with Birtukan Midekssa
Interview With Model Maya Gate Haile
Interview with Nini Legesse
Interview with Sahra Mellesse
Interview with Lydia Gobena
Interview with Author Maaza Mengiste
Interview with Grammy-nominated singer Wayna
Interview with Bethlehem Tilahun Alemu
Interview with Journalist Fanna Haile-Selassie
Interview with Dr. Mehret Mandefro
New Book Highlights Stories of 70 Accomplished Ethiopian Women (TADIAS)
—
Tseday Alehegn is Co-Founder & Editor of Tadias.
Join the conversation on Twitter and Facebook