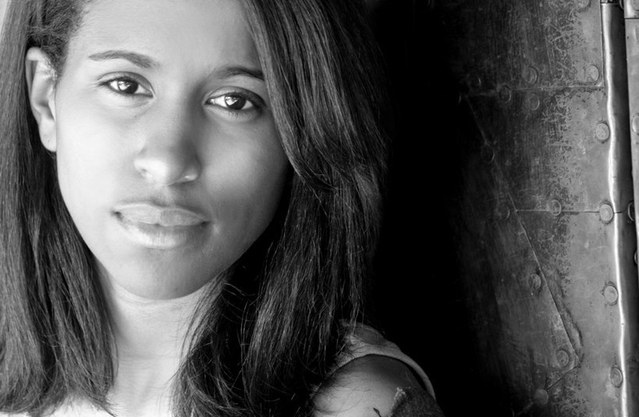 Tadias Magazine
By Tigist Selam | Art Talk

Updated: Sunday, March 25, 2012
New York (TADIAS) – As part of our Women's History Month series, we spotlight Sahra Mellesse, an emerging actress based in Los Angeles. Sahra's first major screen role was in the feature film Pariah – a contemporary drama about a Brooklyn teenager juggling conflicting identities. Pariah was released last December by Focus Features and was an official selection at the 2011 Sundance Film Festival. Sahra is also a series regular on Speed Racer for the Nicktoons Network, and has appeared in guest roles on Law & Order. Having studied screenwriting at UCLA, Sahra has developed a television series pilot in which she plans to star.
Belwo is our Q & A with Sahra Mellesse.
TADIAS: What would you like to share about yourself with Tadias readers?
Sahra Mellesse: I was born and raised in the South Bronx, New York City to an Ethiopian father and a Ugandan mother. Growing up in New York City gave me access to groups of friends who are as ethnically and ethically diverse as Home Depot's paint selection. It's allowed me to interact with and connect to so many different types of people. But I've also been hindered by it in the sense that Hollywood isn't as open minded as I am. My goal as a filmmaker is to expand the images of minorities in general, so that audiences aren't just limited to the same stereotypical image of each group. I want to make visible the variety of images that I grew up with. No entire group of people is the same. And I want to explore that. There are so many people, and ideas unrepresented or under-represented on screen. So I'm working to bring those characters and those stories to light.
TADIAS: What do you most enjoy about acting?
SM: The part of acting that I most enjoy is being able to put myself on a hanger and try on someone else's life for a little bit. To play a character with any type of authenticity you have to first understand them. And it's so rare that people get to explore a culture outside of their own or a perspective that differs from theirs. But it's my job to do that. It's my job to put my beliefs, my experiences, and my perspective on a shelf, and inhabit someone else's, so that I can live life through their eyes, within their skin. You learn so much. So every project has been a real growing experience and an education of sorts.
TADIAS: When did you know you wanted to be an actress? Was there a specific event that inspired it?
SM: I believe I was in middle school when I decided I wanted to become an actor. I honestly can't pinpoint the moment I made the decision. I didn't have an epiphany or anything. I think it started out with the combination of being a good liar and a class clown. I just liked to entertain. I liked making people laugh. It was fulfilling. The most gratifying feeling for me is creating something that people take with them in their day to day lives.
The other day someone told me they were from West Philly, and I followed with "born and raised, in the playground is where I spent most of my days!" It's the theme from The Fresh Prince of Bel Air. It's embedded into my psyche. I know whole episodes by heart. I also know the show Friends, verbatim. I have a VCR in my head, and when I need a laugh I just press play. The shows that I grew up with and the movies that I've seen have become a part of me. And I take them with me everywhere I go. And my hope is that people will take my performances and my projects with them as well. And maybe one day I can be responsible for someone breaking into song in the middle of a conversation. However, I'd settle for just making someone smile.
TADIAS: In celebration of Women's History Month, who are your female role models?
SM: The main one would be my Mom. She's my Mother Theresa. I don't think there's enough time in the day to explain why. I actually don't think there's enough time in the year. But she's been really supportive. This isn't the easiest business to crack into, but she's always championed me regardless. And apart from being my mom, she's also a philanthropist. She works for a non-profit organization that grants money to different causes they believe in. She's a do-gooder!
In terms of role models in Hollywood, I have two. One would be Dee Rees, who wrote and directed Pariah. The amount of courage it took to put her struggle in theaters with the hope of making someone else feel less alone is by-far the bravest act I have ever witnessed. She's the most genuine and most courageous person I know, hands down. My other role model is Meryl Streep. I've been a groupie since Music of the Heart in 1999 and have since seen damn-near everything she's done. Not only is she talented but she carries herself with such class and such grace. And on top of that, there's still room in her personality to be undeniably charismatic. I don't think I've ever watched one of her performances or watched her in an interview and said, 'well, I'm bored.' Never.
TADIAS: Thank you Sahra and best wishes from all of us Tadias.
—
Related Women's History Month Stories:
Interview with Birtukan Midekssa
Interview with Artist Julie Mehretu
Interview With Model Maya Gate Haile
Interview with Nini Legesse
Interview with Lydia Gobena
Interview with Author Maaza Mengiste
Interview with Grammy-nominated singer Wayna
Interview with Bethlehem Tilahun Alemu
Interview with Journalist Fanna Haile-Selassie
Interview with Dr. Mehret Mandefro
New Book Highlights Stories of 70 Accomplished Ethiopian Women (TADIAS)
—
Join the conversation on Twitter and Facebook