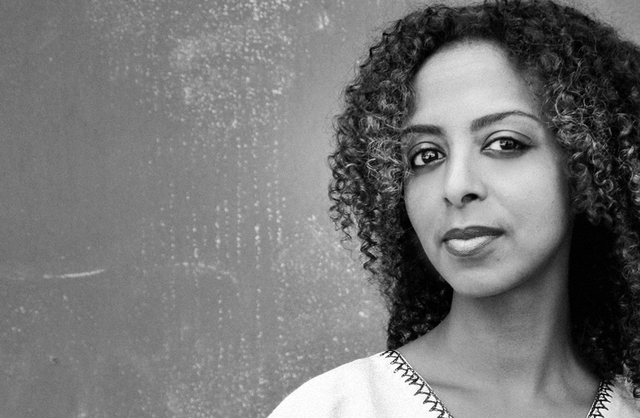 Tadias Magazine
By Tseday Alehegn

Updated: Thursday, March 22, 2012
New York (TADIAS) – Maaza Mengiste is the author of the critically acclaimed novel Beneath the Lion's Gaze. She was born in Addis Ababa, Ethiopia and graduated with an MFA in Creative Writing from New York University. Maaza is also the writer for the Ethiopia segment of the "Ten by Ten" project, a feature film that tells the stories of 10 extraordinary girls from 10 developing countries around the world. These stories, written by a female writer from the girl's country and narrated by a celebrated actress, describe a unique personal journey of triumph and achievement against incredible odds.
Maaza 's book Beneath the Lion's Gaze has been translated into several languages and her work has appeared in The New York Times, BBC Radio 4, The Granta Anthology of the African Short Story, and Lettre International, to name a few. She is a Fulbright Scholar who has also received fellowships from the Emily Harvey Foundation, the Virginia Center for the Creative Arts, the Prague Summer Program, and Yaddo. She teaches at NYU and lives in New York City.
Below is our Q & A with Maaza Mengiste:
TADIAS: What would you like to share about Women's History Month with Tadias readers?
Maaza Mengiste: As I continue my reading and research and learn more about Ethiopian history, I've become increasingly aware of how significant women have been throughout that history. Can we talk about Ethiopian history without mentioning Saba or Zewditu or Taitu or so many of the women whose names aren't in history books but in their families' memories? I'm so proud of all the heroines, famous and unsung. My hope is that somewhere, there is a writer putting some of their stories down on paper.
I think it's hard to consider Women's History Month and consider Ethiopian women without thinking of what's happening to domestic workers across the Middle East. In particular, the horrible and tragic death of Alem Dechassa. I still don't have the right words to describe how I feel. I swing between so many emotions, most of them degrees of sorrow and anger. I think as women and as Ethiopians, we are each other's sisters. In 10×10 film, through Azmera's story and those young girls in her school who are saying 'no' to forced marriage and supporting each other to study hard, I'm hopeful of the potential we unleash when we band together. If we can reach even one woman trapped in an abusive household, if we can give her a place to tell her story and a place to turn for help, then maybe, in some small way, Alem's death will not have been futile. It is a horrible price to pay, and one that I hope no other woman chooses, thinking it is her only way out of a terrible situation. It's wonderful to see people, men and women, coming together to do something as a result of Alem's death. I know events are happening in many places and social media is spreading the word and it's great.
TADIAS: What do you enjoy most about being a writer?
MM: Most of the time, writing is hard work. It requires hours of solitude and many, many weeks and months and years of conceptualizing, writing, then revising again and again. It can often be the most difficult thing I've ever done, but it is also the most rewarding. One of the most rewarding aspects of my current life, as a writer with a published book, is the opportunity to meet so many people with incredible life stories. Writing demands that I am alone most of my days, but being able to interact with so many whose lives in some way echo those of my characters, or to connect with people who worked in Ethiopia or are students of Ethiopian history, has been a wonderful experience.
TADIAS: You are the writer for the 10×10 segment on Ethiopia. Can you share with us a bit more about your work on this project?
MM: The 10×10 documentary is a film focused on girls' education as a means to positively impact a community and a country. The producers and director chose 10 countries and looked at the biggest obstacle to girls' education in those countries. For Ethiopia, that issue was forced early marriage. I had the opportunity to meet Azmera, a young girl from a village outside of Bahir Dar. She was going to be married at age 12, but reported this to her teachers and the marriage was stopped and she was allowed to continue school. My role in the documentary was to spend time with Azmera and her family, which included her mother and grandmother and her aunts, uncles and cousins, and get to know her and learn more about her life. Then, I would write a script based on my time with Azmera and the director would take that and use it to shoot the documentary.
What I realized through this process was that, contrary to so many stories we hear about cruel parents forcing children into these marriages, Azmera comes from a loving, caring family. They adore her. Her mother was doing her best to make the right decisions for her child. She began to understand the physical and psychological damages inflicted on young girls when they're married too young, and she was determined that her daughter finish school and improve her life. What was important to me as a woman, as an Ethiopian and as a writer was to convey this mother's love but also talk about the thousands of young girls who are not as lucky as Azmera. The experience has been life-changing, I'm excited to see the finished film, which will be released sometime in 2013. But most important, I am so grateful for the kindness Azmera and her family extended to me and their willingness to let me into a small part of their lives. We will continue to stay in touch.
TADIAS: Who are your female role models?
MM: My grandmother and my mother. I learned kindness from one and stubbornness from the other, and it's good to have both in this world, I've found.
Tadias: What challenges have you faced as a writer and how did you overcome those hurdles at work or life in general?
MM: Maybe the hardest thing is to maintain the daily discipline of writing, no matter what. It is often a juggling act between work, family and writing. Sometimes one outweighs the other, but the most important thing is that every day, I've spent some time focused on my writing.
TADIAS: What are some practical tips you can give for young women who want to follow in your footsteps?
MM: There will be many, many people who will find many, many reasons to discourage you from writing or from the arts. But the best advice I've ever received was from one of my aunts, who told me that no one lives with your decisions except you. So no matter what you want to do, do it well. Practice discipline. Be fearless. And be kind to people.
TADIAS: Please tell us more about yourself (where you were born, grew up, school and how you developed your passion for your work?)
MM: I was born in Addis Ababa, Ethiopia but came to the U.S. when I was a child. I've grown up in the States but maintained ties to Ethiopia through family, friends and my work. I got my Masters in Fine Arts at New York University and I teach creative writing there. I developed my passion for my work by reading writers I admire. My passion for reading came much earlier than my passion for writing. I still love to read, I read every day, and that's continuing to help me become a stronger writer.
TADIAS: Thank you so much and Happy Women's History month from all of us at Tadias!
–
Stay tuned for more highlights celebrating Ethiopian women role models and change agents.
Related Women's History Month Stories:
Interview with Birtukan Midekssa
Interview with Artist Julie Mehretu
Interview With Model Maya Gate Haile
Interview with Nini Legesse
Interview with Sahra Mellesse
Interview with Lydia Gobena
Interview with Grammy-nominated singer Wayna
Interview with Bethlehem Tilahun Alemu
Interview with Journalist Fanna Haile-Selassie
Interview with Dr. Mehret Mandefro
Watch: Maaza reading from "Ten by Ten" (The story of Azmera, a young girl from Bahir Dar)

—
'Girl Rising' Film & Campaign Coming in 2013 (TADIAS)
Related:
New Book Highlights Stories of 70 Accomplished Ethiopian Women (TADIAS)
—
Join the conversation on Twitter and Facebook