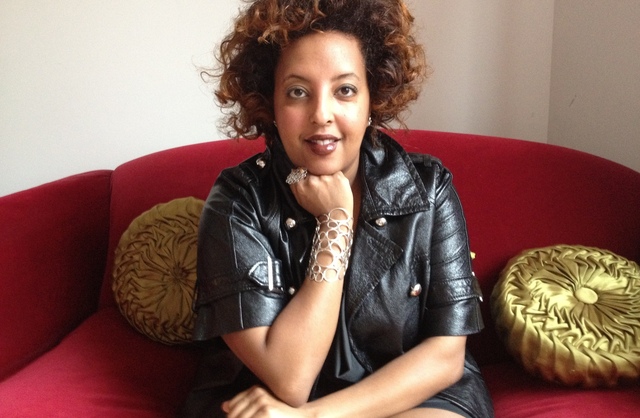 Tadias Magazine
By Tseday Alehegn

Updated: Saturday, March 24, 2012
New York (TADIAS)- Our next interview for Women's History Month features Lydia Gobena, a partner at Intellectual Property law firm Fross Zelnick Lehrman & Zissu and a designer who recently launched her own jewelry line, Birabiro. As a legal professional Lydia has represented diverse international clientele including those in the sports, fashion, architectural, engineering, music, and pharmaceutical sectors. She launched her own jewelry line at the end of 2011.
Below is our Q&A with Lydia Gobena.
TADIAS: Please tell us more about yourself and your interest in a legal career.
Lydia Gobena: I was born in Addis Ababa, Ethiopia, and moved to the U.S. when I was 2 years old. I grew up in Northern Virginia, where I graduated high school, and received a B.A. at the University of Toronto in Philosophy and History. After college, I worked in retail and at a law firm for a year and then studied law at the University of London, School of Oriental and African Studies ("SOAS"), receiving an LL.B. While working at the law firm, I realized that I enjoyed the intellectual aspects of the law. I was particularly interested in comparative law, having traveled extensively as a child. The program at SOAS appealed to me as it enabled me to take the more traditional legal courses while also studying different legal systems in Africa and Asia. After completing my law degree in London, I received an LL.M. at Georgetown University Law Center in International Law. I joined Fross Zelnick Lehrman & Zissu, an intellectual property boutique, in 2000 as an associate in the International Group. I became a partner in December 2005. I counsel and advise clients on international trademark, industrial design, copyright, and unfair competition issues. I have represented a diverse international clientele, including well-known fashion and apparel brands, a luxury goods company, a leading provider of engineering and architectural software, one of the world's largest music and entertainment companies, leading pharmaceutical companies and beverage and sports brands.
TADIAS: You have recently also launched a jewelry design business called Birabiro. Can you tell us a bit more about this venture?
LG: I have enjoyed making beaded necklaces since I was a child. I started silversmithing in 2001, initially out of necessity. I love large rings and bracelets but could not find ones to fit my small fingers and wrists. While I have been making jewelry for friends and family over the years, I decided to launch my own jewelry line, which can now be viewed and purchased at birabiro.com, in order to make the designs available to a larger audience.
My love of jewelry most definitely came from my mother, who collects unique pieces from around the world. I love large, bold pieces of an artistic nature and this aesthetic is reflected in my line. Jewelry for me is an expression of who I am, and I am happy that I can share my creative expression with people outside my everyday circles.
TADIAS: Who are your female role models?
LG: In terms of career, I would have to say that my mother and her friends inspired me to pursue a challenging career. They were university-educated women in Ethiopia in the 60s/70s, who worked fulltime but yet managed to have a family. This career/life balance is something that I strive to have today, with a full-time career, a developing side business and a family life. I also have a number of female colleagues and clients at work, who have also helped guide my legal career. With respect to jewelry and style, my role models tend to be women, who push the boundaries when it comes to adornment. I was also inspired by my late sister, a fantastic artist, who had a unique worldview and aesthetic.
TADIAS: What are some practical tips you can give for young women who want to follow in your footsteps? (Both in law and in the arts).
LG: Find mentors at all stages of your career: I have had male and female mentors throughout my career and I actively seek them out to guide me in my professional life. I believe that it is particularly important, as a woman, to have female mentors, because they have been where you are and are good sounding boards when you need advice.
Follow your dreams: Many years ago, when reading The Alchemist by Paulo Coelho, I came across the following quote that has guided me in my life and career "…[W]hen you want something, all the universe conspires in helping you to achieve it." In other words, desire, determination, dedication, and, above all, belief in your dreams, coupled with hard work, will enable you to achieve your goals. Be a mentor: Just as others have guided you, it is important to help others in their journeys. You will learn and grow from the experience of mentoring as well.
TADIAS: What are some ways you have personally chosen to overcome the hurdles that you may have faced as a woman executive?
LG: I am fortunate to work at a law firm where being a minority woman was irrelevant as I am judged based solely on my work product. Thus, I do not believe that I have faced significant hurdles in my current work environment because of my gender or color. To the extent there have been any during my career, I have tried to ignore them and focus on trying to be the best in my field (a byproduct of how I was raised). Initially, I faced hurdles because I took an untraditional route in my legal career. It took a fair amount of networking to secure my first IP job. However, my perseverance paid off. You have to realize that disappointment is a part of life. However, you need to use it to your advantage: You may not necessarily win every case, or get every client that you pitch, but each of these experiences can make you into a better lawyer and individual.
TADIAS: What would like to share on Women's History Month with Tadias readers?
LG: It is OK to march to the beat of your own drum. My approach to my legal career was not traditional; neither was my path to being a jewelry maker. At the end of the day, you just have to love what you do.
—-
Stay tuned for more highlights celebrating Ethiopian women role models and change agents.
Related Women's History Month Stories:
Interview with Birtukan Midekssa
Interview with Artist Julie Mehretu
Interview With Model Maya Gate Haile
Interview with Nini Legesse
Interview with Sahra Mellesse
Interview with Author Maaza Mengiste
Interview with Grammy-nominated singer Wayna
Interview with Bethlehem Tilahun Alemu
Interview with Journalist Fanna Haile-Selassie
Interview with Dr. Mehret Mandefro
New Book Highlights Stories of 70 Accomplished Ethiopian Women (TADIAS)
—
Join the conversation on Twitter and Facebook