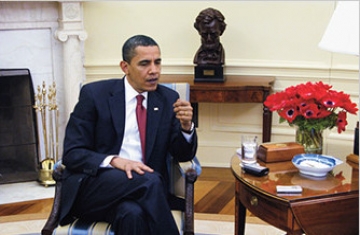 NYT Editorial
One Hundred
Published: April 28, 2009
Crises, not days, is the first word that comes to mind when we think about the number 100 and Barack Obama's presidency…In his first 14 weeks plus two days, President Obama has made a strong start at addressing many of the most critical ones. Read more.
HuffingtonPost.com
Has it been only 100 days since Barack Obama took the oath of office? Actually, it's only been 98, but sometimes 100 days feels like more than 100 days. This is one of those times. Obama's first 100 days have been among the most eventful in history. Read more.
Behind The Scenes: 300 Photos From Obama's First 100 Days
From File: The Obama Presidency & Ethiopia


President Barack Obama (center) and Prime Minister
Meles Zenawi (top right) at the Group of 20 summit
meeting in London.
Tadias Magazine
Time for Fresh Thought
By Donald N. Levine
Published: Monday, March 23, 2009
New York (Tadias) – Throughout 2008 I published articles on links between Ethiopia's needs and the promises of an Obama presidency. Now that President Obama is in office, what might we project? What, that is, might it mean to reconsider U.S. relations with Ethiopia in ways that align them with the orientations of an Obama presidency?
Eyeing policies the Obama administration has already implemented and earlier statements suggests at least half a dozen aims: 1) employ state-of-the art technologies to advance human welfare; 2) develop energy sources to replace fossil fuels, and in other ways conserve natural environments; 3) link upgraded education and health services with a strengthened economy; 4) avoid sharp polarities of pronouncement and of conduct; 5) curtail terrorist tactics, but in smart ways; and 6) restore moral direction for a market economy and public service from the citizenry. In what follows I explore implications of those principles and priorities for U.S. relations with Ethiopia. Read more.