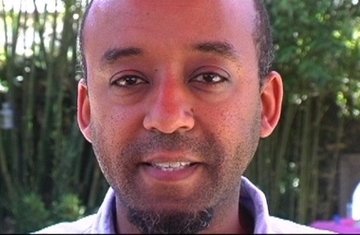 Above: Academy Award nominee Leelai Demoz (Tadias).
Tadias TV
Published: Wednesday, April 29, 2009
New York (Tadias) – In the following interview with Tadias TV, Academy Award nominee Leelai Demoz, speaks about his role as one of the judges at the 2009 Addis International Film Festival and his experience as a filmmaker. The documentary Guzo (The Journey), directed by Aida Ashenafi won first place in this year's competition. The film is scheduled to premier in Washington DC on May 9th at the Lisner Theater (GWU).
Leelai's interview was taped in Los Angeles. Part two of our Ethiopians in Hollywood series features filmmaker Zeresenay Berhane Mehari, who worked as Cinematographer and 2nd Unit Director for Guzo.
Part Two: Featuring Filmmaker Zeresenay (Zee) Berhane Mehari

Related: Interview With Director Aida Ashenafi
Tadias Magazine
By Tadias Staff
Published: Wednesday, April 22, 2009
The film chronicles the interaction between two young residents of Addis Ababa and their peers in the Ethiopian countryside. Over the course of 20-days both the urbanites and country folks are forced to confront stereotypes about each other and grapple with issues of gender and privilege. Read more.