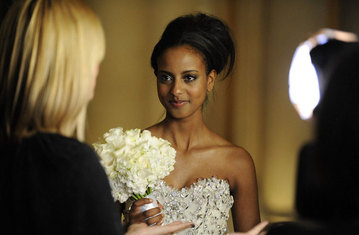 Tadias Magazine
By Tadias Staff
Published: Sunday, December 27, 2009
New York (TADIAS) – As we prepare to usher in 2010, we've pulled together a list of our top 20 most popular stories of the year.
We wish everyone a happy new year!
1. May 2009
Sarah Nuru was crowned Germany's Top Model
Sarah Nuru was crowned Germany's Top Model last May after she beat out 21,000 contestants to claim the coveted title. The 19-year-old fashion model from Munich, whose parents immigrated from Ethiopia, has earned the nickname "Sunshine" from Germany's Next Top Model, and was wildly popular with her competitors. Read our interview with Sara.
2. March 2009
First Ethiopian-American Judge Hard at Work in Florida
Nina Ashenafi Richardson, an Ethiopian-American judge, who was elected to the Leon County bench in Florida on November 4th, 2008, is hard at work in the Sunshine State's capital county. She told the Tallahassee Democrat that although her workload is heavy, she is mindful of the responsibilities and privileges of her new position. "At the county court level it's a lot of volume, and you have to make sure you keep up with it," she said of the plethora of criminal and civil cases that she now presides over. "I love it. Every time I come into the courthouse I continue to feel so privileged and honored to be here." Read more.
3. June 2009
Ethiopian American Gebisa Ejeta Named 2009 World Food Prize Laureate
4. June 2009
Book Review: Verghese's 'Cutting for Stone'
The title of Abraham Verghese's first novel, Cutting for Stone, is intriguing, perhaps unrewardingly so. In the book's epilogue, Verghese, a surgeon and professor at Stanford Medical School, closes with the following explanation, "Medicine is a demanding mistress, yet she is faithful, generous, and true […] every year, at commencement, I renew my vows with her: I swear by Apollo and Hygieia and Panaceia to be true to her, for she is the source of all…I shall not cut for stone." Read more.
5. March 2009
Ethiopian-born Businessman Mohammed Al Amoudi on Forbes Billionaire List
Ethiopian-born businessman Mohammed Al Amoudi, 63, who is now a Saudi citizen and resident of Jeddah, ranks 43 among the world's richest people, Forbes Magazine announced. The self-made businessman, whose net worth is estimated at 9 billion, amassed his wealth in construction and real estate in Saudi Arabia before investing on energy. He is one of Sweden's biggest foreign investors with ownership of Svenska Petroleum and Swedish refinery Preem. Read more.
6. July 2009
Photos from Chicago: Ethiopian Soccer Tournament 2009
7. December 2009
Interview with Marcus Samuelsson
It has been a busy year for Marcus Samuelsson. A few weeks after the release of his book New American Table, Samuelsson was invited by the White House to prepare the Administration's first State Dinner honoring the Prime Minister of India. "It was an honor for me not only to be asked but also to do it," Samuelsson tells Tadias. Samuelsson says he was primarily thinking of diversity while preparing the State Dinner assisted by ten members of his own staff. "I tried to think of diversity on different levels, not just the food," he tells us. Click here to read the interview.
8. March 2009
Yared Tekabe's Groundbreaking Research in Heart Disease
Dr. Yared Tekabe enjoys doing most of his reflections while sitting anonymously with his laptop at cafés in Harlem. When he's not there, Tekabe is busy running studies in cardiovascular disease detection and prevention at his lab in Columbia University's William Black building in upper Manhattan. Last November, Tekabe's groundbreaking work on non-invasive atherosclerosis detection and molecular imaging was published in the American Heart Association's journal, Circulation, along with an editorial citing its clinical implications. Read our interview with Dr. Yared Tekabe.
9. June 2009
As the world waited for Michael Jackson's public memorial at L.A.'s Staples Center, New York held its own remembrance ceremony in Harlem on June 30, 2009 at the world famous Apollo Theater, which helped propel the legendary singer to international stardom in 1967. And outside, admirers wrote their condolences on a temporary mural wall, and lit candles, placed flowers and souvenirs by the wall. They cried, sang and danced into the night.
10. August 2009
New York: Audience Gives Thumbs Up to Guzo
11. September 2009
Interview with Dr. Abraham Verghese
Earlier this year, Tadias reviewed Abraham Verghese's Cutting for Stone, an epic novel about a young man's coming of age in Ethiopia and America. In an exclusive interview, Tadias Magazine spoke with Abraham Verghese about writing, medicine, the healthcare crisis, and how to lead double lives. Read more.
12. October 2009
The Prestor John Sessions: Interview with Tommy T
We spoke to Tommy T about life as a Gogol Bordello member, the influences on his music, and the story behind The Prestor John Sessions. Normally Tommy T punctuates everything he says with so much humor that it's difficult not to be immersed in sporadic moments of pure laughter. His message in this interview, however, remains serious: Are you ready to change the way you listen to and classify music? Read more.
13. July 2009
Interview: Theater Director Weyni Mengesha
We interviewed the critically acclaimed Theatre Director Weyni Mengesha, one of the founding artists of Sound the Horn – the organization behind the annual Selam Youth Festival in Toronto, Canada. Read more.
13. October 2009
A Conversation with Haile Gerima
For filmmaker Haile Gerima the travails of life are much like moving images – "a constant journey of restlessness and complexity, until the final rest." Haile's latest film Teza made its U.S. premiere in Washington D.C. last fall. The film focuses on the tumultuous years of the Mengistu era, as told by an idealistic Ethiopian doctor who recounts dreams and nightmares. We spoke with Haile at his Sankofa bookstore, conveniently located across from Howard University where he has been teaching film since 1975. Click here to read the interview. Here is a sneak preview of Teza:
14. May 2009
Interview with Guzo's Cinematographer Zeresenay B. Mehar
15. November 2009
An Exquisite Pocket Watch And The Emperor Who Owned It
An exquisite pocket watch, made for the Ethiopian King dating back to 1893, was recently sold at Sotheby's auction block in Geneva at price of 52,500 Swiss Franc, the equivalent of 51,595.95 U.S. dollars. Read more.
16. November 2009
Prester John: Medieval Ethiopia's Mythology and History
"Prester John Sessions is the title of the first solo album of Tommy T Gobena, a talented and innovative global musician, who, I believe, is succeeding in his attempt to grasp the meanings of his diasporic sojourn vis a vis his Ethiopian roots. This article is inspired by the title of his album and is written to express my solidarity with his visions and dreams." (Professor Ayele Bekerie). Read more.
17. May 2009
SoleRebels: Eco Ethical Fashion From Ethiopia
Earlier this year we received a note from one of our readers in Ethiopia. "I'm thinking you might enjoy hearing a grassroots perspective on eco ethical fashion from Ethiopia's 1st IFAT certified fair trade company" it stated. "it is my great pleasure to introduce our firm, soleRebels to you." We've heard of fair trade Ethiopian coffee and clothing. And now Bethlehem Tilahun Alemu, Co-Founder and Managing Director of SoleRebels is successfully running Ethiopia's first fair trade footwear company. Click here to read our interview with Bethlehem Alemu. And few months after our interview, AFP followed up with the following headline: SoleRebels, Ethiopian answer to Nike.
18. July 2009
We first featured Ethiopian-American artist Yonie in our May 2003 issue as he single-handedly and successfully promoted his music on Seattle's KUBE 93 FM and X104.5 FM radio stations. Yonie caught up with us in 2009 and let us know that he's still on the fast track. "Since we last spoke I've been up to a lot," he said. " I moved to LA in 2005 to pursue acting….engulfed in a world of pretty women, million-dollar mansions and A-list celebrities…" Not surprisingly, Yonie caught the attention of producers who approached him about having a TV show based on his new life in Hollywood. Here is the trailer:
19. May 2009
Academy Award nominee Leelai Demoz
20. November 2009
Tadias TV Interview with Danny Mekonnen
—
Join the conversation on Twitter and Facebook.