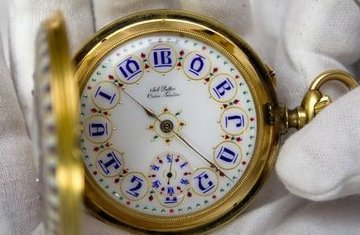 Tadias Magazine
By Tadias Staff
Published: Monday, November 23, 2009
New York (TADIAS) – An exquisite pocket watch, made for Emperor Menelik II of Ethiopia, dating back to 1893, was recently sold at Sotheby's auction block in Geneva at price of 52,500 Swiss Franc, the equivalent of 51,595.95 U.S. dollars.
According to a catalogue issued by Sotheby's, the historical watch, featuring white enamel dial with Ethiopian numerals as the hour indicator, "was a gift to Léon Chefneux in recognition of his contribution to the implementation of Ethiopia's first railway line, as inscribed on the inside of the case 'Don de Sa Majesté Menelik II Empereur d'Ethiopie'."
This pocket watch, however, is also a symbol of the larger-than-life personality of one of the most celebrated monarchs in Ethiopia's modern history. Emperor Menelik's first claim to international reputation occurred in 1896 when his army scored a decisive victory against invading Italian forces, marking the first time that an African country had defeated a European colonial power.
As the Ethiopian historian Bahru Zewde noted, "Few events in the modern period have brought Ethiopia to the attention of the world as has the victory at Adwa." News reports describing Italian soldiers fleeing in panic sent shockwaves throughout Europe. In Italy, riots broke out and the government of Prime Minister Francesco Crispi was forced to resign. Italy eventually signed the Treaty of Addis Ababa – recognizing the independence of Ethiopia.
Elsewhere in the world, shouts of "Viva Menelik" would emerge as a battle cry for anti-colonial movements. For those who still lived under the yoke of racial discrimination, Ethiopia's victory "would become a cause célèbre," writes Scholar Fikru Negash Gebrekidan, "a metaphor for racial pride and anti-colonial defiance." Soon, inspired by the Emperor, African Americans and Blacks from the Caribbean Islands began to make their way to Ethiopia. In 1903, accompanied by Haitian poet and traveler Benito Sylvain, an affluent African American business magnate by the name of William Henry Ellis arrived in Ethiopia to greet and make acquaintances with Menelik. A prominent physician from the West Indies, Dr. Joseph Vitalien, also journeyed to Ethiopia and eventually became the Emperor's trusted personal physician.
King Menelik's era is also characterized by his attempts to modernize his empire. Menelik introduced the country's first telephone and telegraph lines and presided over the inaugurations of the nation's first bank and post office.
The Emperor's colorful personality has been described by generations of writers, but none more vividly than the one offered by 37-year-old American diplomat named Robert P. Skinner. In 1906, Mr. Skinner, who had been appointed by President Theodore Roosevelt to negotiate a commercial treaty with the African kingdom, published a memoir detailing his encounter with the charismatic head of state.
"The emperor was amazed when I handed him a project of treaty written in his own language by Professor Littmann, of Princeton University," writes Mr. Skinner. "He said that it was remarkable that a man who had had only the opportunities for study afforded by books should have such a command of the language as Professor Littmann."
Skinner goes on to describe Menelik's intellectual curiosity and his affinity for technological advances. He highlights that the Emperor kept abreast of international affairs via Reuter news service, which used the telegraph line to provide news. The Emperor also received weekly dispatches through the Ethiopian postal service, which were then translated into Amharic for his review.
"He knew of our war with Spain, he knew something of our war with Great Britain, and he had a realization, though vague, of our might and power," says Ambassador Skinner. "His thirst for information is phenomenal." When Skinner presented Menelik with a signed copy of President Roosevelt's photo, he carefully studied the image with an expression of familiarity with the subject. The American writes: "He had heard, evidently, a good deal about the President, whose personality interested him much. He knew him to be sportsman, and hoped that he would one day visit Ethiopia. He wanted to know his age, and how he had come to be President."
Skinner described the Emperor's sense of humor and adventurous spirit as in a scene during a gift exchange at the palace luncheon hosted by Menelik in honor of the American delegation. No sooner had the visitors finished demonstrating the latest model American rifle, the Emperor grabbed the gun and proceeded to aim it at the dining room doorway without leaving his seat, causing the invited Ethiopian dignitaries to run for cover. "There was immediately a wild stampede for cover on the part of the satellites while the imperial hand pulled the trigger," muses Skinner. "The Emperor's eyes showed that he appreciated the humor of the situation." And Menelik later intimates his love of joking to Skinner: "I am going to my country place in Addis Alem next week," he said, "and I shall be accompanied by many officers. I expect to amuse myself with these cartridges. I shall be able to teach some of my officers to show courage under fire."
However, the tone was decidedly serious when the Americans unveiled a 'writing-machine.' "The practical mind of the Emperor developed the question immediately," writes Ambassador Skinner. "Why can't we have an Amharic typewriter?" Skinner quotes a French gentleman, Mr. Léon Chefneux, who was present at the occasion as having replied to the Emperor as follows: "whereas we had only 26 letters in our alphabet, it would require 251 characters for the Amharic language, and the construction of a machine containing so many figures presented practical difficulties."
Mr. Chefneux was the gentleman whose family until recently had owned Emperor Menelik's pocket watch that was auctioned in Geneva.
—-
Related:
Picture of the Week: Emperor Menelik's Pocket Watch