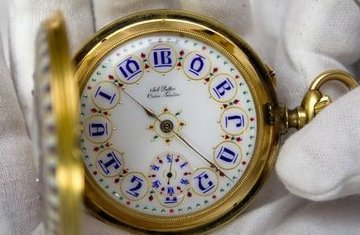 View Africa in pictures at BBC NEWS
Per SOTHEBY'S:
An historical pocket watch made for Ethiopian Emperor Menelik II (1844 – 1913), "The Negus Watch" dates from 1893. The Watch was a gift to Léon Chefneux in recognition of his contribution to the implementation of Ethiopia's first railway line, as inscribed on the inside of the case 'Don de Sa Majesté Menelik II Empereur d'Ethiopie'. The Monarch's reign was characterized by progress, innovation and modernity. Estimated at CHF 30,000 – 50,000 (US$ 29,100 – 48,500) this very rare and historically important 18K yellow gold chronometer pocket watch with detent escapement made by Lattes has a white enamel dial, enhanced with blue and white enamel decoration, polychrome writing in Ethiopian symbolising the hour indication, subsidiary seconds, a white enamel replacement dial and a back cover representing the royal crown of Menelik II. It is fully set with rubies and diamonds, accompanied by its presentation case and the original First Class Geneva Observatory Certificate.
–
Join the conversation on Twitter and Facebook.