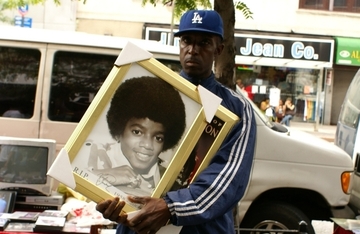 Tadias Magazine
By Tadias Staff
Updated: Tuesday, July 7, 2009
New York (TADIAS) – As the world waited for Michael Jackson's public memorial at L.A.'s Staples Center, New York held its own remembrance ceremony in Harlem on June 30, 2009 at the world famous Apollo Theater, which helped propel the legendary singer to international stardom in 1967.
Inside the theater, a moment of silence led by the Rev. Al Sharpton was observed at 5.26 p.m., the star's exact time of death.
And outside, admirers wrote their condolences on a temporary mural wall, and lit candles, placed flowers and souvenirs by the wall. They cried, sang and danced into the night.
Here is a short Tadias video of the scene outside Apollo Theater on June 30, 2009:
—
Join the conversation on Twitter and Facebook.