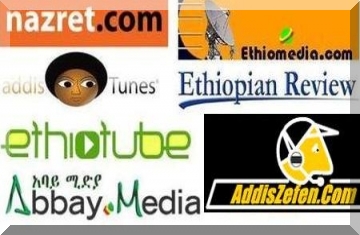 Tadias Magazine
By Tadias Staff
Updated: Friday, December 25th, 2009
New York (Tadias) – Tadias Magazine announces its second annual list of top Ethiopia related websites. In addition to our traditional listing of the most visited websites (based on Alexa's traffic ranking), we have included our "Favorite Charitable Organizations" (published earlier this month) and the top 5 entertainment websites of 2009.
Per Alexa: The rank is calculated using a combination of average daily visitors and pageviews over the past 3 months. The site with the highest combination of visitors and pageviews is ranked #1.
You may also check Quantcast for further comparison. Click here to see "Ethiopia's Top 25 most popular media of 2009 and click here for "Ethiopia's Top 10 most Independent news websites of 2009."
1. Ethiopian Review
Ethiopian Review is the most frequently visited Ethiopian online journal.
Global Rank: 55,207
U.S. Traffic Rank: 15,264
2. Nazret.com
Nazret.com is the largest Ethiopian news and information portal. Directory, forum, travel, history and sport.
Global Rank: 73,456
U.S. Traffic Rank: 23,658
3. Cyber Ethiopia
Cyber Ethiopia: Portal with forum, directory, chat, news and email.
Global Rank: 150,872
U.S. Traffic Rank: 42,955
4. Ethiomedia.com
The most influential pro-democracy website of Ethiopians and African Americans.
Global Rank: 187,957
U.S. Traffic Rank: 58,263
5. Ethiopian Reporter
English and Amharic coverage of national and international news.
Global Rank: 305,609
U.S. Traffic Rank: 155,735
6. Ethioforum.org
(EMF) provides daily news, analysis and Discussion forum on events concerning Ethiopia and Horn of Africa.
Global Rank: 322,190
U.S. Traffic Rank: 74,621
7. Abbaymedia.com
Global Rank: 356,543
U.S. Traffic Rank: 115,463
8. Abugidainfo.com
Abugida information center's main goals are to provide outreach service to Ethiopians and friends of Ethiopia.
Global Rank:375,336,
U.S. Traffic Rank: 126,210
9. Quatero.net
Quatero.net; Voice for the voiceless of Ethiopian People since 2000
Global Rank: 398,244
U.S. Traffic Rank: 195,892
10. ECADF News, Audio & video
ECADF provides daily news related to Ethiopia.
Global Rank: 499,031
U.S. Traffic Rank: 191,076
Note: Tadias.com has a global rank of 478,606 and U.S. traffic rank of 196,384 (B/N #9 & 10).
Related:
Nazret.com's Top 10 Ethiopian Websites
—–
Top 5 Ethiopian Entertainment Websites of 2009
1. Ethiotube.net:
EthioTube is the leader in Ethiopian online video sharing, and the premier
destination to watch and share original videos related to Ethiopia.
Global Rank: 160,634
U.S. Traffic Rank: 51,811
2. Diretube.com
Diretube.com is one of the largest Ethiopian video sharing sites.
Alexa Global Rank: 171,704
U.S. Traffic Rank: 120,171
3. Addiszefen.com
Alexa Global Rank: 642, 223
U.S. Traffic Rank: 901, 300
4. AddisLive.com
Alexa Global Rank :1,065,723
U.S. Traffic Rank: Unavailable
5. Addistunes.com
Alexa Global Rank: 2,842,132