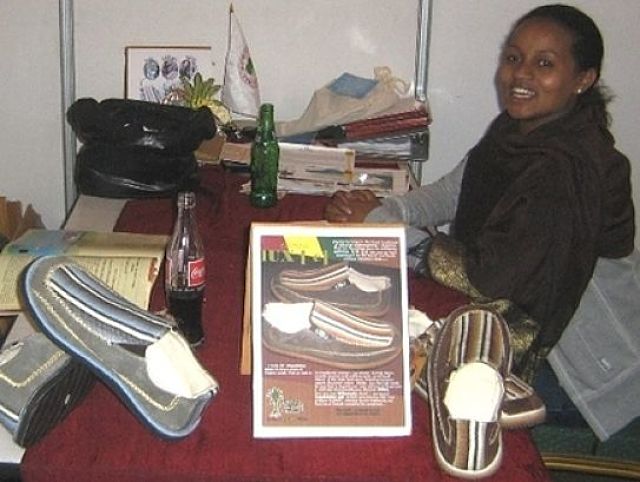 Tadias Magazine
By Tseday Alehegn
Published: Tuesday, May 19, 2009
New York (TADIAS) – A few months ago we received a note from one of our readers in Ethiopia. "I'm thinking you might enjoy hearing a grassroots perspective on eco ethical fashion from Ethiopia's 1st IFAT certified fair trade company" it stated. "it is my great pleasure to introduce our firm, soleRebels to you."
We've heard of fair trade Ethiopian coffee and clothing. And now Bethlehem Tilahun Alemu, Co-Founder and Managing Director of SoleRebels is successfully running Ethiopia's first fair trade footwear company.
Since its 2005 debut at New York's Fashion Week, eco-fashion has morphed from its humble beginnings as an alternative trend into high-end boutique apparel labeled "green," "sustainable," "organic," "all-natural fiber" and our personal favorite – "vegan." SoleRebels footwear is available for purchase on several online shopping sites including Amazon and Endless.com. Introducing SoleRebels Tilahun describes her work as "a story of fair trade, eco-sensibility, great innovative footwear products and HOPE!"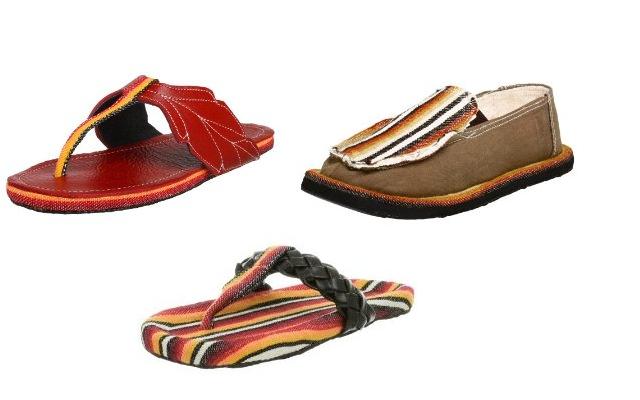 Photo courtesy of SoleRebels
Tilahun's fans are equally enthusiastic. Jasmin Malik Chua, New Jersey based Environmental Writer and Editor of Treehugger.com, dubs SoleRebels as "Fair Trade, Eco-Friendly Shoes With Plenty of Soul." Worldchanging, a non-profit organization which describes itself as "a global network of independent journalists, designers and thinkers covering the world's most intelligent solutions to today's problems," features SoleRebels products in their Bright Green Footwear for Humanity section, highlighting how Tilahun's concept fuses business and trade "not foreign aid to leverage positive change in that region."
But Tilahun says it best: "One of the truly unique and exciting things about soleRebels is that we are green by heritage, and NOT because some marketing folks told us to be! We maximize both recycled inputs and craft our materials in the traditional manner — the way they have always been made in Ethiopia – by hand."
She summarizes their ethos in three words: "Roots, Culture, Tires." SoleRebels products are created using indigenous practices such as hand-spun organic cotton and artisan hand-loomed fabric. Tires are also recycled and used for soles. The end result is environmental friendly, vegan footwear. "Historically that is the way things have been done," Tilahun says, and it not only makes great sense to continue the tradition, it also has generated income for local artisans.
Below is our recent interview with Bethlehem:
TADIAS: Tell us a bit about yourself…where you grew up, who or what is influential in your life.
Bethlehem: My name is Bethlehem Tilahun Alemu. I was born and grew up in the Zenabwork/Total area of Addis Ababa. I am a graduate of Unity University College in Accounting. My family has been a huge influence on me, especially my parents. They are loving, caring, thoughtful people. They taught me the value of respect for one's family and larger community. The way they treated other people always struck me as it was always in a manner that dignified and respected the person regardless of who they were. My parents encouraged me to get higher education and to embrace learning, and they taught me the value of hard honest-to-goodness work. Both my folks have always set a great example in terms of being committed to what they do. They instilled in me a pride about working honestly that informs so many of the things that I do.
TADIAS What did you do before you started Sole Rebel?
Bethlehem: Before I began SoleRebels, or Bostex plc as our umbrella company is called, I worked with various companies in the leather and apparel sector in a variety of capacities including marketing and sales, design, and production. This gave me good industry knowledge that has been extremely useful in terms of setting up my company and growing it. After working in the private sector for a while I had a strong desire to start to focus my business skills on my community, which is one the most impoverished areas in Addis. I knew that there were so many talented people there who could do great things if only given a chance. I repeatedly saw what a lot of these people could do in terms of various craft and creative skills. However, owing to extreme poverty, stigma, marginalization and a whole load of other factors, many of them could not even get simple jobs. This was devastating for me as I grew up with them — they were my neighbors, my family members. I knew that anything that I did for the community had to be business-oriented. I wanted to show people that if we all worked hard we could have jobs that pay decently and we could all have regular work and we could all start to feel the pride that comes with financing ourselves and not waiting for handouts.
TADIAS: Who are the other co-founders of Sole Rebel? Tell us a bit more about your collaboration with them and when you started Sole Rebel?
Bethlehem: My family has played significant and ongoing roles in the company's formation and operation. My brother Kirubel has been a key point-man in the origination of the company, doing a lot of crucial legwork for the company. He continues to be deeply involved in operations and marketing. A graduate of Unity University College in I.T., he brings an important set of skills to the team. My brother Brook provides a solid addition to the management of the company in his role as Director of Production. Brook is a graduate of Addis Ababa University in Economics.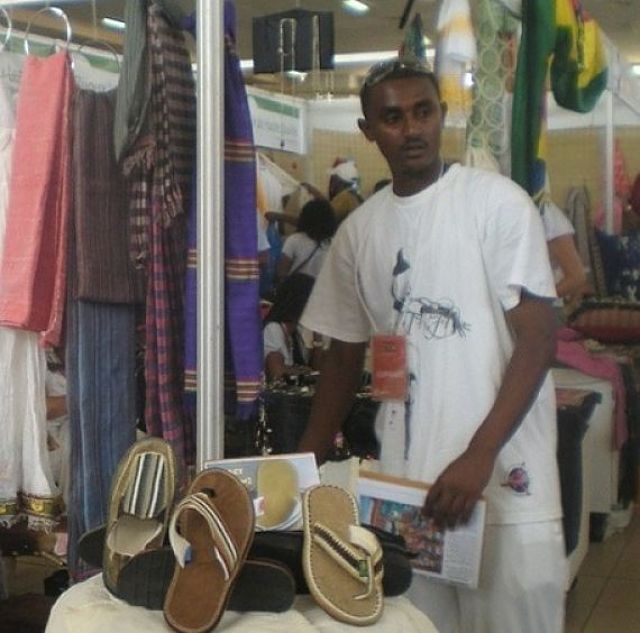 Kirubel presenting soleRebels at the SIAO Burkina Faso artisan fair, October 2008. (Courtesy photo)
TADIAS: What inspired you to become a green business? Are there models that you followed in the process, either domestic or international?
Bethlehem: It's an interesting question that you ask about models that we looked to regarding being a "green business." I would answer that instead of looking outwards we looked deeply inwards, to ourselves, our country, our culture and our community.
I think the idea of a "green business" is a bit of a fad label that doesn't express the value of who and what we are. To me a better way of understanding who we are and why we do what we do is to say: "SoleRebels is as an innovative and ethical company committed to creating world-class footwear and apparel products and great community-based jobs while utilizing the immense, diverse, sustainable and eco-sensible materials and cultural arts of Ethiopia that are by their very nature "green" and have always been."We want to express the key fact that we are embracing these deeply sustainable and traditionally zero carbon methods of production not because it's the "in" thing, or because we held a focus group about it, or because some marketing genius told us to be "green." We embrace it because these production methods and ideas and ethos are an integral part of Ethiopia's cultural fabric, and are by their essence sustainable and low impact.
Ethiopians reading this can relate: we grew up watching members of our families spin cotton with an inzert - the traditional wooden hand-drop spindle used here for centuries to spin cotton. I spun many rolls of fetel with my mom. We line our shoe interiors and strap linings with the fabric made from this organic hand-spun cotton. We also grew up watching shemmanies hand-loom gorgeous fabric to make netalla, gabbis etc on their simple wooden looms. These two functions – hand spinning and hand looming – which are integral to our production process as well, are true examples of highly sustainable zero carbon production that we have been utilizing here in Ethiopia for centuries. Another example would be the barabassao and selate recycled tire shoes, which have been widely worn here for years. They are wonderful examples of our recycling ethos . As a company we have embraced this idea in full and craft many of our soles from recycled car tires. Working in this manner preserves important cultural assets, and gives our customers incredibly cool and stylish footwear. And 100% local input means this is a deeply sustainable mode of production and export. What we offer goes far beyond "green" labels and really extends in to meaningful ideas about sustainability, ecologically sound practices and authenticity. To me the whole idea of "green" , if we want to call it that, is really where places like Ethiopia have something to offer the world in terms of not just amazing products , but adding authenticity in the whole dialogue.
TADIAS: Can you describe your logo?
Bethlehem: We look to homegrown models of sustainability for our inspiration on multiple fronts . and nowhere is this fact better reflected than in our logo. All our products carry our symbol – the ancient and exalted koba plant . Koba is an indigenous plant cultivated in ethiopia for thousands of years. It is a marvel of natural efficiency and every part of the koba plant is put to use. Its fibers are used in the creation of a range of things – from baskets to tapestries to parts of our shoes. A Koba plant's roots are a source of food.
TADIAS: What were the impressions of your first customers?
Bethlehem: We have been extremely fortunate to have had some excellent, enlightened and savy buyers right from day one. Their reactions on the whole were "Wow this is great . Let's start getting some products to our customers." And so off we went..and we haven't stopped growing. Customers like Endless, and Amazon and their buying teams recognized early on the value a brand like SoleRebels offered on various levels in terms of fair trade and eco-products, and I'm proud to say that they have manifested that support by carrying over 90 unique SoleRebels styles. We are deeply honored by that support and we live to validate that support every day by designing and delivering world class footwear to these retailers and their final customers. We also view our retailers' support as something that needs to be earned over and over in everything that we do for them. And we are committed to keep on winning that support.
TADIAS: How many people do you employ now?
Bethlehem: SoleRebels has supplied over 40 people from our community with full-time dignified and well-paying work, and a further 100 part-time jobs. Through our supplier network and our subcontractors, we have created an additional 55 jobs in areas such as the supply of inputs including hand-spun cotton and hand-loomed fabric. And this is just the beginning.
TADIAS: What are some of the most successful projects you have launched to turn a social profit and give back to the community that is producing SoleRebels? How have the lives of your employees and families changed?
Bethlehem: Our operational philosophy includes the principle and provision of honorable wages for artisans workers – a wage that honors their skill, dedication and outputs. As a resident of Zenabwork I am doubly proud that I have been able to participate in elevating the living standards of my fellow Ethiopians in a dynamic and significant manner. We are very excited about the financing program the company runs, which assists workers to purchase their own homes. We are also very proud of our back2school support program that encourages and supports workers who want to finish their schooling – be that high school or more advanced education. We offer people in this program flexible work hours and financial support for their efforts. Our "tie-back promotions" program, where we tie back a certain percentage of the sale revenue from specified styles to a variety of initiatives helps us to support the education of the children of our artisans. In addition we have an onsite kitchen, which provides breakfast and snacks for our workers. We also provide matching funds to our employees through our one4one program.We have a sub brand called b*knd – the name we give to all SoleRebels products that are created and crafted especially for vegans, and everyone else who doesn't want any animal-related products in their footwear. We are also about to kick-off a great initiative called Growing Green, with the aim of funding organic gardens in the local community that are run by community entrepreneurs, using a portion of the sales generated from b*knd styles. The garden entrepreneurs will in turn sell their products locally. Their payback for our funding will be in the form of a certain amount of produce that they will supply for our workers no cost . So this is a great way to promote local entrepreneurs and commerce and give something of ongoing value to our workers.
TADIAS: What are a few ways that our readers could get more involved or learn more about green entrepreneurship in Ethiopia?
Bethlehem: I would say that in terms of getting more involved, we always say that the Diaspora Ethiopian community can play a key role by supporting Ethiopian products and brands. In our case they can show this support by buying products from our retail partners like Endless and Amazon.com. They can also promote the brand to the wider communities they live in — this is a tried-and-true method that many Diaspora communities have engaged in, and that has helped indigenous brands to enter international markets. More importantly, Diaspora Ethiopians can use the SoleRebels story to broaden the image that people may have about Ethiopia, and to help get beyond the relentless focus on the Ethiopia as being synonymous with aid and/or poverty. They can proudly point and say "look what this great Ethiopian company is doing with trade . Look at their amazing and cool and eco-fabulous products…and you can order them online or buy them in Urban Outfitters stores." To me this has the power to elevate people's ideas and consciousness about Ethiopia to new levels and to see that trade and not aid is the key. It really serves as a direct development tool. More orders equals more jobs and more income and benefits for the wider community. Trade is such an essential key to upliftment as it is the key to job creation, income realization and ultimately, if conducted on the right terms, that all too elusive thing that sustains us all – hope. And the Diaspora community can play an active and important role in making this happen, being at the forefront, building something universally popular, while also asserting control over our destiny. That is a fascinating proposition.
In terms of learning more, we ourselves are always happy to communicate with people who want to learn ore about us and what we do. We encourage people to write and get in touch with us at rootsculturetires@gmail.com, and we would be honored to hear from everyone! Thanks for taking the time to get to know a little bit more about us. We really appreciate it.
TADIAS: Thank you Bethlehem for the interview.
–
About the Author:
Tseday Alehegn is the Editor-in-Chief of Tadias Magazine. She is a graduate of Stanford University (both B.A. & M.A.) and in addition to her responsibilities at Tadias, she is completing her Doctoral studies at Columbia University.
Join the conversation on Twitter and Facebook.