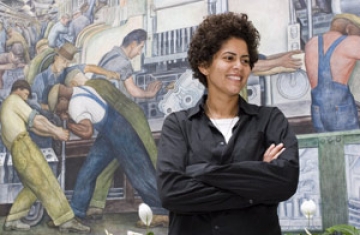 Tadias Magazine
Events News
Source: Solomon R. Guggenheim Museum
Published: Friday, April 30, 2010
NEW YORK, NY — An exhibition of six new large-scale paintings by American artist Julie Mehretu, is presented at the Solomon R. Guggenheim Museum as part of the Deutsche Bank Series at the Guggenheim, May 14 to October 6, 2010.
Commissioned in 2007 by Deutsche Bank and the Solomon R. Guggenheim Foundation, the suite of semiabstract works is inspired by a multitude of sources, including historical photographs, urban planning grids, modern art, and graffiti, and explores the intersections of power, history, dystopia, and the built environment, along with their impact on the formation of personal and communal identities.
Berlin plays a significant role in the investigation of memory and the urban experience in the Grey Area suite, first conceived during a residency by Mehretu at the American Academy in Berlin in 2007. During this residency, the artist was struck by the continuously shifting profile of Berlin, a historically charged city where vestiges of war coexist with new architectural development. For Mehretu, the visible evidence of destruction and recovery on the facades and streetscapes of Berlin also conjures the physical aftermath of war around the world, as in the paintings Believer's Palace (2008–09), which references the partially destroyed palace that sat atop Saddam Hussein's Baghdad bunker, and Atlantic Wall (2008–09), which renders the interiors of bunkers built by Germany along the Western European coastline during World War II.
Video: Interview with Julie Mehretu

About Julie Mehretu
Born in Addis Ababa, Ethiopia, in 1970, Mehretu was raised in Michigan. She studied at Kalamazoo College in Michigan (BA, 1992) and at the Université Cheikh Anta Diop de Dakar in Dakar, Senegal (1990–91). She received an MFA in painting and printmaking from the Rhode Island School of Design in 1997. Mehretu has participated in numerous international exhibitions and biennials and has received international recognition for her work, including, in 2005, the American Art Award from the Whitney Museum of American Art, New York, and the prestigious MacArthur Fellow award. She has had residencies at the Core Program at the Museum of Fine Arts in Houston (1998–99), the Studio Museum in Harlem, New York (2001), the Walker Art Center, Minneapolis, Minnesota (2003), and the American Academy in Berlin (2007). Mehretu currently lives and works in New York and Berlin.
Exhibition Catalogue
An illustrated 96-page catalogue titled Julie Mehretu: Grey Area accompanies the exhibition and includes essays by Joan Young and Brian Dillon. Designed by Tracey Shiffman, with Alex Kohnke and Summer Shiffman of Tracey Shiffman Design, Los Angeles, and in collaboration with Julie Mehretu, the catalogue features source materials selected by the artist, as well as a selection of photographs by Mark Hanauer tracing the development of the series in the artist's Berlin studio. Priced at $45 and offered in a hardcover edition, the catalogue may be purchased online at the Guggenheim Store.
Curator's Eye Guided Tours:
Free with museum admission
Guggenheim curator Joan Young leads tours of Julie Mehretu: Grey Area on Fridays, June 4 and August 13, 2 pm.
About The Solomon R. Guggenheim Foundation
Founded in 1937, the Solomon R. Guggenheim Foundation is dedicated to promoting the understanding and appreciation of art, primarily of the modern and contemporary periods, through exhibitions, education programs, research initiatives, and publications. Currently the Solomon R. Guggenheim Foundation owns and operates the Guggenheim Museum on Fifth Avenue in New York and the Peggy Guggenheim Collection on the Grand Canal in Venice, and also provides programming and management for two other museums in Europe that bear its name: the Guggenheim Museum Bilbao and the Deutsche Guggenheim in Berlin. The Guggenheim Abu Dhabi, a museum of modern and contemporary art designed by architect Frank Gehry, is scheduled to open in 2013.
Visitor Information
Admission: Adults $18, students/seniors (65+) $15, members and children under 12 free. Admission includes an audio tour.
Museum Hours: Sun–Wed, 10 am–5:45 pm; Fri, 10 am–5:45 pm; Sat, 10 am–7:45 pm; closed Thurs. On Saturdays, beginning at 5:45 pm, the museum hosts Pay What You Wish. For general information, call 212 423 3500 or visit guggenheim.org.
—-
NEW:
Follow Tadias Magazine on Twitter
Join us on Facebook
Subscribe to our E-Newsletter!