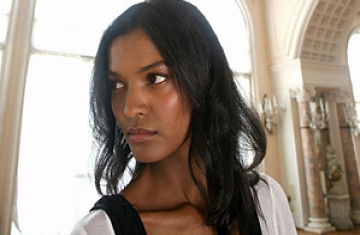 Above: Liya Kebede has been named by Time Magazine as one
of the 100 influential people who "most affect our world."
Tadias Magazine
By Tadias Staff
Published: Friday, April 30, 2010
New York (Tadias) – President Barack Obama, Sarah Palin, Oprah Winfrey, Glenn Beck, Lady Gaga, and Liya Kebede are among the 100 individuals who made the cut into Time Magazine's annual list of influential people.
The 2010 TIME 100 – categorized as Leaders, Heroes, Artists and Thinkers – is made up of a diverse group of global newsmakers who are known for their powers of persuasion as well as for sparking controversy.
The Ethiopian-born model ranks number fifteen out of 25 "Heroes" on the 2010 list and joins notable personalities, such as former President Bill Clinton and Iranian reformist politician Mir-Hossein Mousavi.
Kebede, 32, who is being recognized mostly for her role as the World Health Organization's Goodwill Ambassador, has focused her advocacy work on maternal, newborn and child health issues since her appointment in 2005. She is also one of two Ethiopians who were recently named "Young Global Leaders" by the World Economic Forum.
"I first met Liya Kebede about 10 years ago in Paris. I was casting models for a show, and Liya came in. She looked me in the eyes, and I was quite literally stunned…," writes fashion designer and film director Tom Ford in Time Magazine. "In today's world, celebrity advocates are not rare. What is rare is to encounter one whose devotion and drive come from a genuine desire to better our world. Liya's work comes from a place of sincerity, and her beauty is much more than skin-deep."
We congratulate Liya Kebede on the honor given to her by Time Magazine.
Video: Liya Kebede on World Health Day in 2005

Video: Riz Khan – Supermodel Liya Kebede – 11 Oct 07 (Al Jazeera)

Cover photo: FRANCO ORIGLIA / GETTY IMAGES
Video: TIME 100 Unvailed (NYPost.com)

NEW:
Follow Tadias Magazine on Twitter
Join us on Facebook
Subscribe to our E-Newsletter!