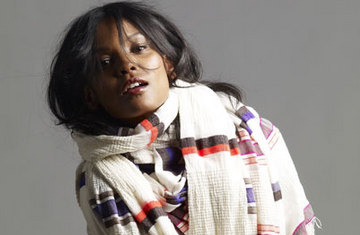 Above: Liya Kebede models Lemlem's autumn/winter 2010
range, all of which is made from cotton woven in Ethiopia.
Guardian.co.uk
Eva Wiseman
Sunday 13 June 2010
She was one of the world's biggest fashion models and the first black face of Estée Lauder. But when Liya Kebede returned home to Ethiopia and saw the chronic problems of maternal health her career took a new turn. Her campaign continues – and now she has set her sights on sustainable fashion.
Flicking through Liya Kebede's pile of fashion magazine covers passes a calm and perfumed afternoon. In 2002, French Vogue declared May was "All About Liya" month, dedicating a whole issue to the African supermodel after the editor saw her in Tom Ford's Gucci catwalk show. Describing the day they first met, Ford recalls: "She looked me in the eyes, and I was quite literally stunned. Liya projects an aura of goodness and calm that outshines even her extraordinary physical beauty. Later in the day," Ford continues, "when trying to remember what she looked like, I could only remember her eyes." Read more.
Related:
Liya Kebede Makes TIME 100 List
Video: Riz Khan Interview With Supermodel Liya Kebede – 11 Oct 07