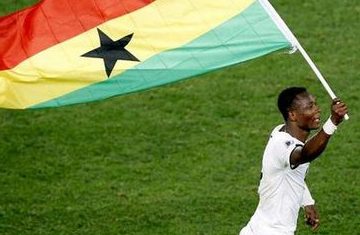 Above: Ghana wins over Serbia 1-0, and Slovenia beats
Algeria 1-0 in the continuation of the FIFA World Cup 2010.
FIFA.com – The latest videos from the 2010 World Cup
FIFA World Cup 2010: TV Schedule Printable June 13 2010
Algeria vs. Slovenia - 13 Jun 1:30pm
Serbia vs. Ghana - 13 Jun 4:00pm
Germany vs. Australia - 13 Jun 8:30pm
* All times are South Africa Time
Video: World Cup 2010: Ghana profile

The world is still talking about the England vs USA game in which it went into a tie. The focus of the conversation is how the goalkeeper of England missed the biggest goal of his career. England goalkeeper Robert Green presented the greatest gift that the United States can receive to tie the score at 1-1.
Watch

BBC News
By Pumza Fihlani
June 11, 2010
Johannesburg's streets were filled with the unrelenting chorus of the vuvuzela and car horns announcing the beginning of a long night of celebrations as South Africa – known by all football fans here as "Bafana Bafana" ("the boys") – drew 1-1 with Mexico at the opening match of Africa's first World Cup.
"I am really proud of Bafana Bafana. Yes, I was hoping for a win but they played really well and have done the country proud," said Isaac Maphalle, 21, after the final whistle.
The past week has been particularly impressive here – as though the reality of what it means to hold an event of this magnitude has finally sunk in. The entire country is drunk on World Cup fever.
Words can scarcely describe the electricity in this country at the moment. Read more.
Related:
Mandela misses World Cup opening after family death (BBC)
In pictures: Africa's World Cup (BBC News)
Watch World Cup 2010 online, Twitter, Facebook, YouTube, iPhone, Blackberry, Android apps (Examiner.com).
VIDEO: 2010 FIFA World Cup Kick-Off

Video: Will the 2010 World Cup unite South Africa?

Video: World Cup 2010 Opening Ceremony