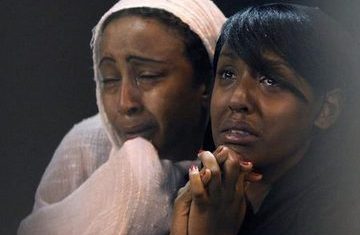 Above: Mourners at Friday's public memorial service react
during an emotional visual tribute to the Seattle fire victims.
(STEVE RINGMAN / SEATTLE TIMES)
Updated: Saturday, June 19, 2010
By Marc Ramirez
Seattle Times staff reporter
One by one, the lives lost to last weekend's fire in Fremont were celebrated on screen, a series of snapshots taken in happier times.
The boy who dreamed of playing point guard for the Boston Celtics. The siblings who adored their older brother. The girl who liked to jump rope. And the young woman who could win any argument she set her mind to.
The emotional slide show capped Friday's public memorial to those five family members at Seattle Center's KeyArena. The multicultural crowd, estimated at 3,500, largely reflected an East African population united in grief over the loss of so many young lives.
"Your sorrow is our sorrow," said Seattle Mayor Mike McGinn. "Your grief is Seattle's grief. We walk with you in your grief because we are — and will be — one community."
Killed last Saturday morning in the swift-moving fire at Helen Gebregiorgis' Fremont apartment were three of her children — Joseph Gebregiorgis, 13, Nisreen Shamam, 6, and Yaseen Shamam, 5; her sister, Eyerusalem Gebregiorgis, 22; and a niece, 7-year-old Nyella Smith, daughter of a third sister, Yordanos Gebregiorgis.
Watch Video: Memorial service for Fremont fire victims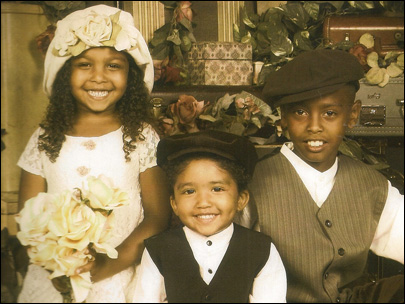 Nisreen Shamam (left), Yaseen Shamam (C) and Joseph Gebregiorgis.
They were killed in last weekend's apartment fire in Seattle.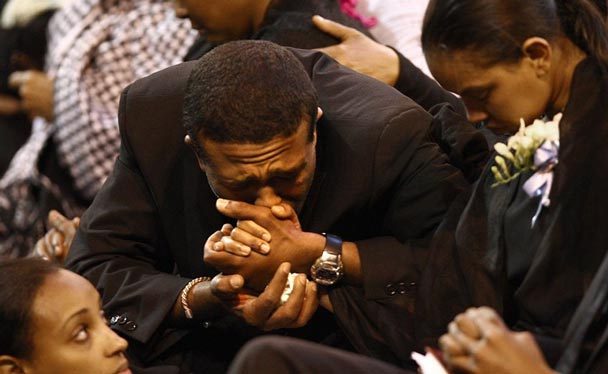 PHOTO BY JOHN LOK / THE SEATTLE TIMES
Click Here to Donate to Seattle's Fremont Apartment Fire Victims Fund – Donate Online Now
Donations to help family members affected by last Saturday's blaze can be sent to the Seattle Children's Fire Fund at any Bank of America branch. Donations also are being accepted at the Red Door tavern in Fremont. There will be a booth at this weekend's Fremont Fair at North 35th Street and Evanston Avenue North to accept cash donations or gift cards from grocery or department stores. There also will be paper and envelopes available to write condolence notes to the family. Neighbor Allecia Clemons, a Fremont folk singer, is trying to organize a benefit concert for later in the summer. She can be reached at allecialightlove@hotmail.com.
Watch Video: Ethiopian community mourns 5 dead in Seattle fire

Tadias Magazine
By Tadias Staff
Updated: Tuesday, June 15, 2010
Seattle (Tadias) – As investigators continue to look into the cause of this pasts weekend's apartment fire in Seattle that killed an Ethiopian family, including four children, the city's fire chief described the frantic seconds after the blaze erupted Saturday morning in Helen Gebregiorgis' two-story home in Seattle's Fremont neighborhood.
Seattle Fire Chief Gregory Dean told the media Sunday that the city's deadliest fire in decades started in the living quarters of Helen Gebregiorgis' three-bedroom, two-story apartment and spread to the second floor. He said the mother had gone upstairs to tell the others about the fire, grabbed her 5-year-old niece, Samarah Smith, and left the building, thinking the others were behind her. "She believed that the rest were following her and when she got outside they were not," Dean said during a news conference at Fire Department headquarters in Pioneer Square. "We did find the four children and the aunt in the second floor bathroom, huddled together."
Gebregiorgis, 31, lost her sons, 13-year-old Joseph Gebregiorgis and 5-year-old Yaseen Shamam, and her 6-year-old daughter, Nisreen Shamam, in the fire in the city's Fremont neighborhood, the children's grieving uncle, Daniel Gebregiorgis, told The Seattle Times. Also killed were Helen's 22-year-old sister, Eyerusalem Gebregiorgis, and 7-year-old niece, Nyella Smith.
Video: Seattle Fire Chief Gregory Dean reacts to an apartment fire that killed an Ethiopian family

The fire was reported just after 10 a.m. Saturday morning.
According to Seattle's King5 News, the first emergency vehicle to arrive at the burning apartment building had a problem with a pump that prevented it from spraying water on the fire, but a second unit arrived two minutes later and was able to fight the fire.
"They needed to be able to control what was in front of them before they could go up the stairs," the Chief said. "There was definitely a delay in firefighters being able to get there. I think in looking at the pictures and what we saw and listening to comments, there was a tremendous amount of fire and smoke prior to the fire department's arrival, which, again, makes it pretty hard to sustain life in that type of heated environment," he said.
Dean said the truck with the mechanical problem arrived at 10:09 a.m., and a second truck about two minutes later, and a third at 10:12 a.m.
According to the fire chief, the department prepares for problems because they happen on a regular basis and this weekend's particular problem would be investigated.
"We do what we call redundancy back-up to make sure that if something happens, we're prepared for that type of thing," he said. "In this case something did happen. The second unit came in, they did what they were supposed to do and we continued to fight the fire."
"Our firefighters are beating themselves up, you know 'could I have done more,'" the chief said. "Our hearts go out to the ones that lost their loved ones and we recognize there's an impact on the community, recognize there's an impact on our firefighters. We will be doing a follow-up with the community."
—
New:
Fatal fire may have started in mattress (Seattle Times)