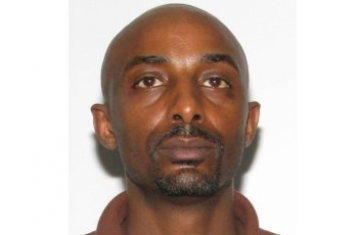 Above: The man wanted for the Virginia killings of 27-year
old Seble Tessema and their 3-year-old daughter has been
arrested in NYC.
Tadias Magazine
By Tadias Staff
Published: Saturday, May 1, 2010
New York (Tadias) – New York City police have arrested Simon Bahta Asfeha, the man accused of murdering his girlfriend – 27-year old Seble Tessema – and their 3-year-old daughter, ABC 7 News reports.
Police were responding to reports of domestic disturbance on April 11, 2010 at a high-rise complex in Alexandria's West End neighborhood in the 300 block of S. Reynolds Street when they found the bodies of the mother and her child, both of whom had been stabbed to death.
Per ABC 7 News: "The U.S. Marshals fugitive task force, which had been hunting Asfeha, described him as a "monster" to the Washington Examiner, saying he had slashed his own daughter's throat."
Investigators in Alexandria had initially thought that Asfeha, who had previously been charged with assaulting Tessema, "may have sought refuge in the large Washington, D.C., area Ethiopian community or in a homeless shelter, " according to America's Most Wanted TV show.
But Asfeha apparently had run away to New York City, where a witness alerted authorities on his location. He was captured without incident on Thursday night in a coordinated effort between NYPD, the U.S. marshals, and Alexandria police.
Reports say "Asfeha will go through New York's court system before he ends up back in Alexandria. If he waives his extradition rights, he'll be back in the commonwealth sooner, authorities said Friday."
"Everybody's excited to have him in custody," said Jody Donaldson, of the Alexandria Police Department. "This was a horrific crime. He's been on the loose for a couple of weeks now. The [Alexandria police] chief was so grateful for all the work that went into this, with the Marshals Service and NYPD working with our department to make this arrest."
–
Related:
Simon Bahta On America's Most Wanted
Watch this video report from Fox DC (April 12, 2010)

Click here to make a comment on this topic.
—–
NEW:
Follow Tadias Magazine on Twitter
Join us on Facebook
Subscribe to our E-Newsletter!