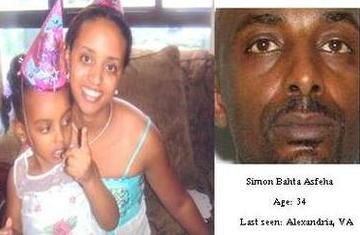 Above: Simon Bahta Asfeha (R) has been added to America's
Most Wanted list, intensifying the search to find him for the
killings of Seble Tessema (left) and their 3-year-old daughter.
Update: Simon Bahta Arrested in New York City
Tadias Magazine
By Tadias Staff
Updated: Sunday, April 18, 2010
New York (Tadias) – Police in Alexandria, Virginia, have turned to America's Most Wanted TV show in an effort to locate Simon Bahta Asfeha, the prime suspect in the grisly murder of his girlfriend – 27-year old Seble Tessema – and their 3-year-old daughter.
According to the suspect's profile on the crime show's fugitives list, Asfeha, who has been known to use the name Simon Bahta, "may have sought refuge in the large Washington, D.C., area Ethiopian community or in a homeless shelter."
Police were respondeding to reports of domestic disturbance on April 11, 2010 at a high-rise complex in Alexandria's West End neighborhood when they discovered the mother and her child dead, with their throats slashed, according to media reports. "They found two victims deceased on an apartment on the 14th floor. We're investigating the case as a suspicious death right now," said Deputy Chief of Alexandria Police Blaine Corle.
Watch this video report from Fox DC:

Read the case on America's Most Wanted Web site.
Simon Bahta may be driving a 1999 silver Acura with Virginia tags XKS-1522. Anyone with information is asked to call the Hotline at 1-800-CRIME-TV. The show's website notes that callers can remain anonymous.
–
Related – Tadias Magazine's editorial published on Wednesday, March 31, 2010:
Re: The Recent String of High-Profile Violent Crimes Involving Ethiopian Immigrants (Video)
—–
NEW:
Follow Tadias Magazine on Twitter
Join us on Facebook
Subscribe to our E-Newsletter!