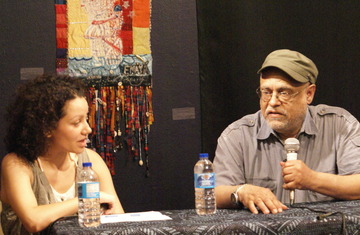 Tadias TV
By Kidane Mariam

Monday, April 12, 2010
New York (TADIAS) – Haile Gerima, the internationally acclaimed director of Teza, Adwa, Bush Mama and Sankofa, hosted a discussion on the challenges of independent film-making here in New York.
The public discourse was part of a series of events designed to promote the release of Gerima's latest film Teza.
The Q & A session, moderated by Tigist Selam, was held on Wednesday, April 7, 2010 at the Caribbean Cultural Center African Diaspora Institute.
Teza opened in Manhattan on Friday, April 2, at Lincoln Plaza Cinema.
The award-winning film uses the power of memory and flashbacks to recount the historical circumstances that have framed the context in which contemporary Ethiopia exists.
Tadias TV attended the event. Here are video highlights.
Watch: Haile Gerima On The Challenges of Independent Filmmaking
Video: Watch the Trailer
—
Related:
Lacking Shelter at Home and Abroad (NYT Movie Review)
A Conversation with Haile Gerima (Tadias Magazine)
Teza, Portrait of an Ethiopian Exile (The Village Voice)
Join the conversation on Twitter and Facebook.