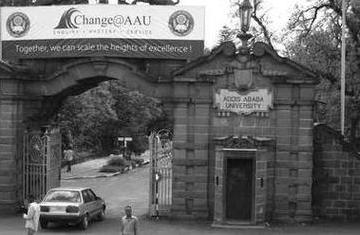 Above: Students at Addis Ababa University say it helps to be
a member of Ethiopia's ruling party to gain college admission.
(Photo: Harold Jackson / Inquirer Staff )
The Philadelphia Inquirer
By Harold Jackson
Opinion Columnist


Posted on Sun, Apr. 11, 2010
Ethiopia is like a rose – oh, so beautiful, but beware its thorns.
I found that out while accompanying a Healing the Children medical missions team that was there in March, performing pediatric surgeries and other services, mainly at Black Lion Hospital in Addis Ababa.
Talking to a variety of people, from university students to entrepreneurs to government officials, provided insight beyond the rather ubiquitous tranquillity of the typical Addis Ababa street.
I learned that the Ethiopian government is benevolent and repressive and that we in America should pay more attention to one of the oldest independent countries in the world. Read more.
Related:
A team of U.S. doctors and nurses discovers the unexpected on a mission to Ethiopia