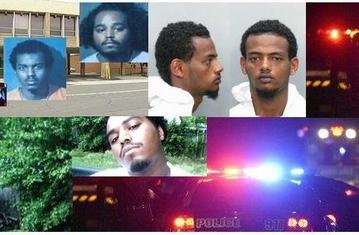 Above: The latest known violent crime involving an Ethiopian
immigrant took place in Florida over the weekend, following
last year's brazen attempted bank robbery in Maryland.
Tadias Magazine
Editorial
Published: Wednesday, March 31, 2010
New York (Tadias) – Our community is not used to making headlines, such as the recent string of high-profile violent crimes involving young Ethiopian immigrants, which should be a concern to all of us.
Following this new wave of mayhem, a man identified by police as 24-year-old Kidane Mengesha was arrested and charged with attempted murder in connection with the stabbings of two women in South Beach, Florida on Saturday.
According to WSVN-TV Channel 7, Mengesha, who immigrated from Ethiopia three years ago, approached Leigh-Ann Martinez, 21, and Belkin Gutierrez, 20, shortly after 9 pm where they had just finished dinner with friends at the popular restaurant TGI Friday's and were walking towards their car. "He was trying to engage them in a conversation. They repeatedly told him, 'Please leave us alone,'" Miami Beach Police detective Juan Sanchez said.
Mengesha first assaulted Martinez, who hit back, and a fight broke-out. Gutierrez joined in support of her friend, at which point the man pulled out a knife. Mengesha stabbed Gutierrez five times, in the head, torso and arm, and Martinez was stabbed once in the leg, according to press reports. "It was a big cut — a really big cut. I freaked out and passed out on the sidewalk," Martinez said.
The disturbing news comes only days after a court in Maryland sentenced Josef Tadele, 24, to four years in prison for his role in a plot to kidnap the family of a bank manager. His co-defendant Yohannes Surafel, 25, who has also been convicted, faces a possible sentence of 75 years. A third suspect, Baruk Ayalneh, is believed to have left the United States.
According to prosecutors, the Maryland trio were acting out a scene from the movie "Bandits" – starring Bruce Willis and Billy Bob Thornton- in which they hold bank managers hostage the night before they rob their banks.
Meanwhile in Florida, the victims, who fortunately survived the attack, are being treated in local hospitals. And Mengesha, who has no prior criminal record, is being held on $50,000 bond.
We hope these are isolated incidents, and not symptoms of a looming problem for the larger community.
WATCH: 2 Sentenced in Bank Mgr. Kidnapping