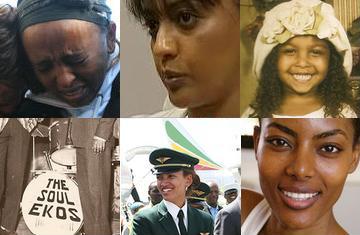 Above: Images from the most popular stories of 2010 posted
on Tadias.com b/n January 1, 2010 and December 15, 2010.
Tadias Magazine
By Tadias Staff
Published: Thursday, December 16, 2010
New York (Tadias) – Some of the top stories featured on Tadias.com this year include, among others, the tragic crash of Ethiopian Airlines Flight 409, a violent arrest inside an Ethiopian church in Texas (caught on tape), the appointment of Captain Amsale Gualu as the first female captain at Ethiopian Airlines, as well as our exclusive interviews with rising music star Meklit Hadero, international model Maya Gate Haile and Ethiopian legend Teshome Mitiku.
The stories are displayed in the order in which they were ranked by Google Analytics. We have included links to each article as well as videos when available.
Here's a look at the 10 most-read stories of the year.
1. Names of Passengers Aboard Ethiopian Airlines Flight 409

2. Tadias TV Interview with Meklit Hadero

3. Exclusive Interview With Model Maya Haile

4. Violent Arrest Inside Ethiopian Church Caught on Tape

5. Ethiopia Election Marred by Charges of Voter Intimidation

6. Ethiopian Airlines Appoints First Female Captain

7. Ethiopian Community Mourns 5 Dead in Seattle Fire

8. Simon Bahta Arrested in New York City

9. The Nun Pianist: Emahoy Tsege Mariam Gebru

10. Exclusive Interview With Ethiopian Legend Teshome Mitiku

Swedish pop singer Emilia (Teshome Mitiku's daughter)