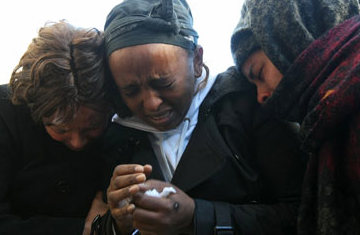 Tadias Magazine
By Tadias Staff
Published: Monday, January 25, 2010
New York (Tadias) – The Lebanese newspaper The Daily Star has published the names of passengers aboard Ethiopian Airlines Flight 409, which crashed into the Mediterranean sea minutes after taking off from Beirut in stormy weather on Monday.
The 90 passengers and crew that perished hail from nine countries: Ethiopia, Lebanon, Britain, Canada, Russia, France, Iraq, Syria, and Turkey.
According to the newspaper, the list was released by the The National News Agency of Lebanon.
Here are the names of passengers aboard flight 409:
1) Addis Abera Demise (Ethiopia)
2) Bahrnesh Megersa (Ethiopia)
3) Kidist Wolde Mariam (Ethiopia)
4) Elisabeth Tilhum Habtermariam (Ethiopia)
5) Rahel Tadese (Ethiopia)
6) Etenesh Admasie (Ethiopia)
7) Woinshet Meugistu Melaku (Ethiopia)
8 Azeb Betre Kebede (Ethiopia)
9) Tigist Shikur Hajana (Ethiopia)
10) Hani Gebre Gembezo (Ethiopia)
11) Alunesh Tkele (Ethiopia)
12) Shitu Nuri (Ethiopia)
13) Selam Zigdaya (Ethiopia)
14) Yikma Mohamed (Ethiopia)
15) Seble Agezc (Ethiopia)
16) Aynalem Tessema (Ethiopia)
17) Eyerus Alem Desta (Ethiopia)
18) Mekiya Sirur (Ethiopia)
19) Lakesh Zeleke (Ethiopia)
20) Tigist Anura (Ethiopia)
21) Askalesh Soboka (Ethiopia)
22) Meselu Beshah (Ethiopia)
23) Kevin Graingur (UK)
24) Marla Sanchez Pietton (France)
25) Akram Jassem Mohammad (Iraq)
26) Mohammad Abdel-Rahman Saii (Syria)
Names of Lebanese nationals:
1) Hanna Nakhoul Kreidy, born on 26/6/1987
2) Haidar Hassan Marji, born on 7/11/1976
3) Ali Youssef Jaber, born on 2/4/1967
4) Ali Ahmad Jaber, born on 5/8/1969
5) Abbas Mohammad Jaber, born on 13/7/1977
6) Mohammad Mustapha Badawi, born on 5/9/1970
7) Khalil Ibrahim Salah, born on 5/9/1961
8 Hassan Adnan Kreik, born on 25/1/1984
9) Saeed Abdel-Hassan Zahr, born on 5/10/1984
10) Hussein Ali Farhat, born on 25/1/1966
11) Mohammad Hassan Kreik, born on 14/10/2006
12) Ali Souheil Yaghi, born on 28/6/1973
13) Rawan Hassan Wazni, born on 27/6/1990
14) Bassem Qassem Khazaal, born on 10/3/1974
15) Haifa Ahmad Wazni, born on 25/10/1967
16) Ali Ahmad Tajeddine, born on 3/4/1979
17) Tanal Abdallah Fardoun, born on 1/2/1952
18) Mustapha Haitham Arnaout, born on 16/9/1986
19) Fouad Mahmoud Lakiss, born on 25/8/1946
20) Mohammad Kamal Akkoush, born on 23/12/1983
21) Toni Elias Zakhem, born on 18/6/1976
22) Hamzah Ali Jaafar, born on 31/5/1985
23) Hassan Mohammad Issaoui, born on 22/11/1951
24) Hassan Kamal Ibrahim, born on 13/12/1973
25) Ghassan Ibrahim Katerji, born on 15/12/1964
26) Haifa Ibrahim Farran, born on 25/9/1965
27) Hussein Youssef Hajj Ali, born on 26/7/1968
28) Fares Rashid Zebian, born on 28/9/1955
29) Farid Saad Moussa, born on 3/6/1966
30) Mohammad Ali Khatibi, born on 27/12/1989
31) Yasser Youssef Mahdi, born on 25/8/1985
32) Anis Mustapha Safa, born in 1941
33) Hussein Moussa Barakat, born on 16/12/1983
34) Antoine Toufic Hayek, born on 30/5/1965
35) Elias Antonios Rafih, born on 29/5/1959
36) Tarek George Barakat, born on 21/10/1971
37) Khalil Naji Khazen, born on 20/6/1967
38) Rana Youssef Harakeh, born on 1/2/1980
39) Mohammad Abdel-Hussein Hajj, born on 24/1/1957
40) Julia Mohammad Hajj, born on 2/8/2007
41) Hussein Kamal Hayek, born on 15/11/1977
42) Assaad Massoud Feghali, born on 22/4/1965
43) Ziad Naeem Ksaifi, born on 5/10/1974
44) Reda Ali Mastoukirdi, born on 31/3/1968
45) Albert Jerji Assal, born on 4/11/1959
46) Imad Ahmad Hather, born on 13/5/1980
47) Fouad Mohammad Jaber, born on 6/5/1957
48) Khalil Mohammad Madani, born on 1/12/1968
49) Hasan Mohammad Abdel- Hassan Tajeddine, born on 15/8/1960
50) Yasser Abedel-Hussein Ismail, born on 1/4/1973
51) Jamal Ali Khatoun, born on 5/11/1973
52) Afif Krisht (Lebanese British), born on 29/4/1954
53) Abbas Hawili (Lebanese Canadian), born on 2/11/1945
54) Anna Mohammad Abbs (Lebanese Russian), born on 23/1/1973
Video: 90 perish in Ethiopian jetliner crash (ntvkenya)

Video: Ethiopian Airlines Crashes into the Mediterranean (CBS)

Video: Ethiopian Plane Crashes Off Lebanon (AP)

Raw Video: Lebanon Plane Crashes After Takeoff (AP)

Ethiopian Airliner Crashes Near Beirut

Video: History of Ethiopian Airlines crashes

Raw Video From The Ethiopian Airlines Crash Site Off Beirut:
–
ET-409 Update: Thursday, February 18, 2010
(Watch Videos Below The Headlines)
Second aircraft involved in Lebanon ET409 crash (Airlines/Airport Examiner)
Crashed Ethiopian plane cockpit recorder recovered (AP)
Ethiopian Air Says Too Soon to Rule Out Sabotage in Crash Prob (BusinessWeek)
Lebanese minister rules out bomb on Ethiopian jet (AP)
Lebanon confirms 45 bodies retrieved from Ethiopian jet crash (Earth Times)
Ethiopian jet's 2nd black box retrieved from sea (The Associated Press)
Ethiopian plane 'exploded' after take-off: Lebanon minister (AGENCE FRANCE-PRESSE)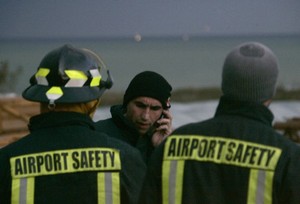 Lebanese airport safety employees near the crash
site. Credit: REUTERS
Ethiopian Airliner's flight recorders sent to France (Daily Star – Lebanon)
Ethiopian Jetliner's Recorders Found ( Reuters)
Main parts of crashed Ethiopian jet found off Lebanon (Reuters)
Ethiopian air crash shines light on lives of migrant workers (LATimes)
Lebanon gets relatives' DNA in Ethiopian jet crash (AP)
Wreckage from Ethiopian plane found in Syrian waters (Earth Times)
Sub to help search for crashed Ethiopian jet (AP)
Salvage crews hunt for Ethiopian airliner black boxes (AFP)
Racism in Lebanon? Commenters Respond to Ethiopian Airline 409 Tragedy
British investigators say Ethiopian Airlines plane crash 'similar' to earlier disaster
Ethiopian Airlines plane makes emergency landing (AFP)
Navy sends second ship to aid Ethiopian flight salvage
(By Stars and Stripes, daily newspaper published for the U.S. military)
Ethiopian crash jet flight recorders found off Lebanon (BBC)
Army says black boxes located from Ethiopian crash (The Associated Press)
The Latest Press Release from Ethiopian Airlines
Terrorism cannot be ruled out in the crash of Ethiopian Airlines Flight 409 (Canada Free Press)
Ethiopian plane black box found, toll reaches 32 (Indo Asian News Service)
Flight ET409 Exposes Lebanon's Racist Underbelly (Huffington Post)
Ethiopian Air #409 Crashes near Beirut — The Coverage So Far
Boats scour ocean for Beirut crash black boxes (AP)
Was The Doomed Ethiopian Plane Formerly Owned by Ryanair?
The United States Extends Its Deepest Sympathies
Ethiopian Airlines plane veered off course before sea crash
Ethiopian Airlines CEO on search for plane's black box
Search widened for victims of Ethiopian jet crash
Names of Passengers Aboard Ethiopian Airlines Flight 409
White House saddened by deaths in Lebanon crash
Storms or sabotage? The mystery of Flight 409