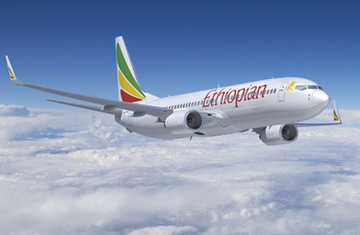 Tadias Magazine
By Tadias Staff
Updated: Thursday, January 28, 2010
New York (Tadias) – Three days after the tragic crash of Ethiopian Airlines Flight 409, there is no news of survivors but there is plenty of information about the doomed aircraft.
According to Michael O'Leary, the Chief Executive of Ryanair – a discount airline based in Dublin, Ireland – the Boeing 737-800 may have been an eight-year-old plane previously owned by his company and later transferred to Ethiopian Airlines through a third party lessor in September 2009.
"I think they had it in maintenance, they did some work on it, between April and May. I think they leased it to Ethiopian in September, and something happened to it," O'Leary told Reuters without identifying the third party. "We are not sure yet, but it may have been that aircraft that was involved in the accident…"
Ethiopian Airlines says the plane was leased from the American commercial and consumer finance company CIT Group, according to Reuters.
"The Irish Aviation Authority confirmed that the aircraft was a former Ryanair plane that had logged 17,750 flight hours in its seven years of service," The Daily Mail reported. "And planespotters came forward to say they had photographed the jet at British airports between 2002 and last year."
The news follows the plane's crash into the Mediterranean sea minutes after taking off from Beirut's Rafic Hariri International Airport in the early hours of Monday, January 25, 2010. The incident happened only days after Ethiopian Airlines and Boeing announced a deal worth $767 million for 10 Next-Generation 737-800s. The company also has a pending purchase order with Airbus for 12 A350 commercial jetliners in a deal valued at about $2.8 billion at list price.
But Chief of Ryanair says buyer's remorse would not apply to his plane: "What happened we don't know. It's a bit like you selling your car and 11 months later the new person driving it has a crash. It had nothing to do with us," the Irish airline's CEO told Reuters after a news conference in Rome.
Meanwhile, The Associated Press is quoting an army officer who says emergency workers have detected signals from the black boxes about 1,300 meters (yards) and about 10 kilometers (6.2 miles) from the seaside airport and they will attempt to retrieve it in the coming days. The black box recording devices are key to solving the mystery behind Ethiopian Airlines Flight 409.
–
Cover photo courtesy of Boeing.
ET-409 Update: Thursday, February 18, 2010
(Watch Videos Below The Headlines)
Second aircraft involved in Lebanon ET409 crash (Airlines/Airport Examiner)
Crashed Ethiopian plane cockpit recorder recovered (AP)
Ethiopian Air Says Too Soon to Rule Out Sabotage in Crash Prob (BusinessWeek)
Lebanese minister rules out bomb on Ethiopian jet (AP)
Lebanon confirms 45 bodies retrieved from Ethiopian jet crash (Earth Times)
Ethiopian jet's 2nd black box retrieved from sea (The Associated Press)
Ethiopian plane 'exploded' after take-off: Lebanon minister (AGENCE FRANCE-PRESSE)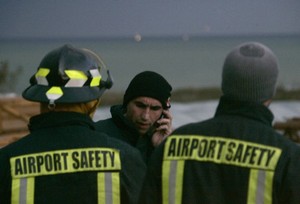 Lebanese airport safety employees near the crash
site. Credit: REUTERS
Ethiopian Airliner's flight recorders sent to France (Daily Star – Lebanon)
Ethiopian Jetliner's Recorders Found ( Reuters)
Main parts of crashed Ethiopian jet found off Lebanon (Reuters)
Ethiopian air crash shines light on lives of migrant workers (LATimes)
Lebanon gets relatives' DNA in Ethiopian jet crash (AP)
Wreckage from Ethiopian plane found in Syrian waters (Earth Times)
Sub to help search for crashed Ethiopian jet (AP)
Salvage crews hunt for Ethiopian airliner black boxes (AFP)
Racism in Lebanon? Commenters Respond to Ethiopian Airline 409 Tragedy
British investigators say Ethiopian Airlines plane crash 'similar' to earlier disaster
Ethiopian Airlines plane makes emergency landing (AFP)
Navy sends second ship to aid Ethiopian flight salvage
(By Stars and Stripes, daily newspaper published for the U.S. military)
Ethiopian crash jet flight recorders found off Lebanon (BBC)
Army says black boxes located from Ethiopian crash (The Associated Press)
The Latest Press Release from Ethiopian Airlines
Terrorism cannot be ruled out in the crash of Ethiopian Airlines Flight 409 (Canada Free Press)
Ethiopian plane black box found, toll reaches 32 (Indo Asian News Service)
Flight ET409 Exposes Lebanon's Racist Underbelly (Huffington Post)
Ethiopian Air #409 Crashes near Beirut — The Coverage So Far
Boats scour ocean for Beirut crash black boxes (AP)
Was The Doomed Ethiopian Plane Formerly Owned by Ryanair?
The United States Extends Its Deepest Sympathies
Ethiopian Airlines plane veered off course before sea crash
Ethiopian Airlines CEO on search for plane's black box
Search widened for victims of Ethiopian jet crash
Names of Passengers Aboard Ethiopian Airlines Flight 409
White House saddened by deaths in Lebanon crash
Storms or sabotage? The mystery of Flight 409
Video: 90 perish in Ethiopian jetliner crash (ntvkenya)

Video: Ethiopian Airlines Crashes into the Mediterranean (CBS)

Video: Ethiopian Plane Crashes Off Lebanon (AP)

Raw Video: Lebanon Plane Crashes After Takeoff (AP)

Ethiopian Airliner Crashes Near Beirut

Video: History of Ethiopian Airlines crashes

Raw Video From The Ethiopian Airlines Crash Site Off Beirut: