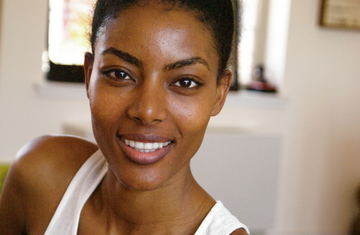 Tadias Magazine
By Tseday Alehegn

Published: Thursday, June 17, 2010
New York (Tadias) – This week Tadias TV highlights international model Maya Gate Haile. The Ethiopian-born model grew up in Holland before relocating to New York where her fashion modeling career has flourished. She is represented by the world's top modeling agencies including IMG, Elite and Ford.
The choice to become a model as a teenager was a tough, personal decision for Maya. Her parents, who migrated to the Netherlands when Maya was 13, pushed their daughter to focus on learning a new language, excelling in school, and perhaps consider becoming a doctor or a nurse.
"For a long time I had [modeling] on my mind, but I could not bring it home," Maya says. And those who saw the tall, somewhat shy, and elegant girl with an infectious smile would often remark "Are you a model?" At 20 Maya finally decided to tell her decision to her family.
Maya recalls "My brother was really shocked: 'You're going to be a model? Are you kidding me?'" But Maya took the opportunities before her and delved into the world of fashion. As much as she loves her work, Maya points out that modeling for her is not "a final destination."
"I love modeling because from modeling you can become something else," she says with enthusiasm. She points out that one can grow from the networking opportunities modeling affords and get involved in other entrepreneurial or humanitarian ventures. "You could take advantage of modeling and you could be activists, film-makers, photographers. It is not only about modeling," she emphasizes.
Which leads us to ask her what other projects she has been working on.
"I have several projects in mind but one that I am currently working on is to provide opportunities for girls in Ethiopia to get access to my world. I would like to give those who aspire to become models an opportunity to come to Europe and to get a taste of what fashion and modeling career is all about. I want to provide access and mentoring, so that they can see that it's possible to be successful and to go after their dreams. I want to share what I have learned."
Maya also works closely with UNICEF's New Generation program. Her husband, Chef Entrepreneur and Author Marcus Samuelsson, introduced her to UNICEF and currently serves as Ambassador for the U.S. Fund for UNICEF. Both Maya and her husband are particularly committed to supporting the organization's immunization programs and its efforts to deliver clean and accessible water to millions of children around the world. Maya also focuses on providing entrepreneurial opportunities for youth aged 18-34 who are residing in developing countries.
Asked how her work with UNICEF has enriched her personal life, the model says it helps her to put her own life in perspective. "I could be one of the kids in Ethiopia," she says. "I compare it to myself and my husband Marcus. Everyday we think about those kids in Ethiopia."
On a lighter note, we asked Maya about her hobbies including basketball. "Who wins when the two of you play?" "I always win," Maya says with a smile, "but you have to ask [Marcus]. He should tell you about it." In the couples interview last summer Marcus confirmed her side of the story. "She kicks my ass in basketball!" Marcus told Glamour magazine. "Also, Maya translates so much for me—not just words, but culturally. When my sisters call with a problem, she takes the phone. I can't give advice—unless it's about cooking. Before Maya, my primary relationship was with food. Luckily, she loves to eat!"
Below is part of Tigist Selam's conversation with Model Maya Haile at home in Harlem.
Watch: Tadias' Interview With Model Maya Haile

Tigist Selam interviewed Maya Haile at home in Harlem on Tuesday
June 15, 2010. (Video by Kidane Films)
—
About the Author:
Tseday Alehegn is the Editor-in-Chief of Tadias Magazine.
Watch Related Tadias Video:
Video – Tadias' Interview with Meklit Hadero