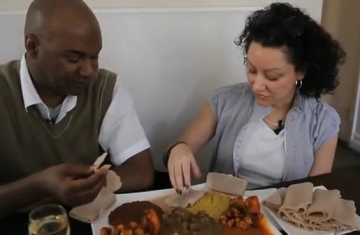 Above: Nelson George shares Ethiopian food with Tigist Selam
at Zoma in Harlem as part of a travel piece for BlackAtlas.com.
Tadias Magazine
By Tadias Staff
Published: Wednesday, October 13, 2010
New York (Tadias) – In a video posted on BlackAtlas.com, the website's travel expert-at-large Nelson George visits Harlem, highlighting the historic neighborhood's evolving culture. Near the end of the segment, the filmmaker stops by Zoma restaurant, located on 113th & Frederick Douglas Boulevard, for a taste of Ethiopian food. He was accompanied by his friend actress Tigist Selam, host of Tadias TV.
"Growing up mainly in Germany, I always romanticized Harlem for it's political and cultural significance, and when I moved to New York from London in 2005, I already knew that I wanted to live in Harlem," says Tigist. "What I didn't know about was the existing and rapidly growing Ethiopian community in Harlem."
She says: "These days, I am happy to claim Harlem as my home. Thank you for allowing me to share my favorite dish with Nelson George and Black Atlas!"
Watch