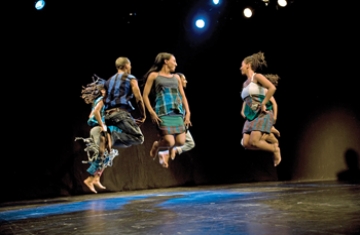 Above: The Beta Dance Troupe performs Oct. 19 at 7:30 p.m.
Westside JCC Auditorium, 5870 W. Olympic Los Angeles, Calif.
Events News
The Jewish Journal of Greater L.A
BY MEREDITH PRICE LEVITT
The first time Dr. Ruth Eshel witnessed esketa (which means shoulder dance, in Amharic), she was astounded. "I knew immediately that this was something new and different, something I had never seen before," Eshel said with enthusiasm over a cup of steaming coffee at Tel Aviv's renowned Performing Arts Center. "For someone like me, who has been dancing and choreographing for many years, to see something entirely new was very refreshing," she continued, smiling wider at the memory. Eshel's dream of one day forming an Ethiopian dance troupe was rooted in that first experience as an awestruck spectator.
Several years prior to that, her career as a dancer had been tragically curtailed by a serious car accident. Undeterred, she continued to choreograph, research and write about her great passion. Author of "Dancing With the Dream: The Development of Artistic Dance in Israel From 1920 to 1964" and a dance critic for the daily newspaper Haaretz, she flourished as a field researcher after 20 years of performing on stage.
In the early 1990s, as Ethiopian immigrants arrived in Israel by the thousands, her curiosity about their culture was piqued. "I'm not ethnic, and my background is in modern dance and experimental, avant-garde work, but I was attracted to their movement. My interest was both artistic and general," she said. Read more.