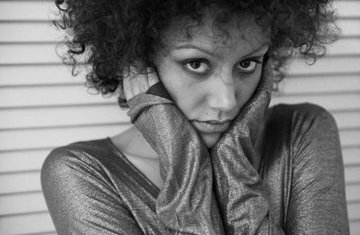 Above: Actress Tigist Selam's role in Nelson George's new web
series called "Left Unsaid" reflects her own cultural background.
The film is based on Facebook. – (Photo credit: by Louis Seigal)
Tadias Magazine
By Tseday Alehegn


Published: Wednesday, June 30, 2010
New York (Tadias) – Our own Tigist Selam, host of Tadias TV, is featured in a new film called Left Unsaid where she plays an Ethiopian-German character named "Bethlehem" – a role that reflects the actress' own cultural background as half-Ethiopian and half-German.
Written and directed by Nelson George, Executive Producer of "Good Hair," Left Unsaid begins with a woman using Facebook to invite a large group of women to her new Brooklyn apartment for Sunday brunch.
"Marisol, recently separated from her music executive husband, has just landed in the Fort Greene area from Manhattan and seeks out new friends in this trendy, rapidly gentrifying neighborhood. Social networking is the engine that brings this multi-cultural group of women together and it is a thematic link that holds together the various conversations and confrontations that happen on one long afternoon. The women are brought together, pulled a part, and some quietly transformed by the opportunities for communication social networking makes possible," states the synopsis posted on the film's official website.
The online series, which was well received at the American Black Film Festival in Miami this month, is now live on the web at http://www.Leftunsaidseries.com. Tigist Selam is featured in chapters 3, 4, 8, 14 & 18.
—
About the Author:
Tseday Alehegn is the Editor-in-Chief of Tadias Magazine.
Watch Related Tadias Videos:
Watch: Tigist Selam's Interview With Model Maya Haile

Tigist Selam interviewed Maya Haile at home in Harlem on Tuesday
June 15, 2010. (Video by Kidane Films)
Video – Tigist Selam's Interview with Meklit Hadero