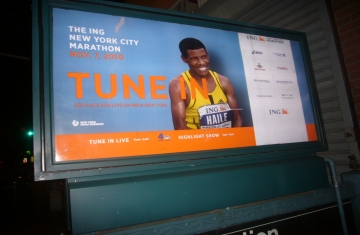 Above: The 2010 New York City Marathon Poster bearing Haile
Gebrselassie's photo at the 155 Street "C" train stop. (Tadias)
The New York Times
On The Run: A blog about the New York City Marathon
By JERÉ LONGMAN
When Haile Gebrselassie, the world-record holder from Ethiopia, competes in the New York City Marathon on Nov. 7, he will be both a star and a growing anachronism.
Gebrselassie is classically trained as a runner. He competed in cross-country and won two Olympic gold medals on the track at 10,000 meters before turning his full attention to the 26.2 miles of the marathon. He is the only man to have run under 2 hours 4 minutes, setting his world mark of 2:03:59 at the 2008 Berlin Marathon.
Now 37, Gebrselassie was also groomed in a relatively closed system of Soviet-influenced coaching and training techniques in the East African nation, which was run by a Marxist military junta from the mid-1970s until the early-1990s.
Ethiopia has long produced great marathoners: Abebe Bikila won the Olympic marathon in 1960 and 1964, becoming the first black African to win a gold medal. His countryman Mamo Wolde won the 1968 Olympic marathon. Fatuma Roba won the women's Olympic marathon in 1996 and three Boston Marathons. Derartu Tulu, a two-time Olympic champion at 10,000 meters, is the defending women's champion in New York. Many consider Gebrselassie the greatest distance runner ever.
The difference now is that individual greatness is being enhanced by billowing numbers. In recent years, a flood of Ethiopian runners has challenged the international marathoning supremacy of neighboring Kenya. While Sammy Wanjiru of Kenya, the reigning Olympic champion, won the Chicago Marathon on Sunday, Tsegaye Kebede and Feyisa Lilesa of Ethiopia finished second and third.
Read more.
—
"Tune-In" Anywhere
Watch the ING New York City Marathon on TV, Web, and Mobile
Television
In New York: The race will be broadcast live exclusively on NBC 4 New York beginning at 9:00 a.m. with the pre-race warm up and continuing through the race across all five boroughs, the bridges, and to the finish line until 2:00 p.m. A two-hour highlight show will follow on NBC Sports (NBC 4 in New York) from 2:00 to 4:00 p.m.
In the United States: NBC Sports will broadcast a two-hour highlight show nationwide, from 2:00 to 4:00 p.m. on November 7; check local listings for details. Universal Sports will also air the race live from 9:00 a.m. EST on their digital network. In the New York metro area, NBC Sports is on NBC 4 New York.
Around the World: A highlight show will be carried in nearly 125 countries worldwide. Check your local listings for details.
Web
The Marathon will be streamed LIVE on UniversalSports.com, from 9:00 a.m. to 2:00 p.m. Coverage includes the main race, pro men's, and pro women's feeds. You can also watch the archived race on demand.
Mobile
Coming in late-October, download the ING New York City Marathon iPhone/iPad app from the iTunes store and take the Marathon with you anywhere! The app will feature:
Live race-day video feeds of the professional race
The five-hour NBC 4 New York show
Real-time photos
Elite runner leaderboard
Individual runner split tracking
"Cross-Path" feature displays your location with respect to the runner
Spectator map
Athlete profiles
News and alerts
Twitter feeds (#ingnycm)
Source: ING New York City Marathon