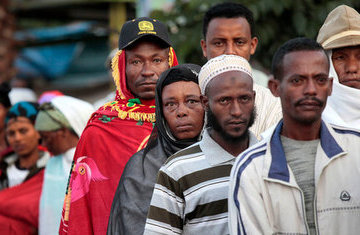 Above: Ethiopians wait to cast their vote Sunday, May 23 at
a polling station in Dukem, Ethiopia, south of Addis. (AP)
NEW:
Ethiopian election stirs outrage at ruling party (Washington Times)
NEW: Ethiopia's Ruling Party to Work with Opposition (VOA)
Ethiopia's Meles Rejects Criticism of Elections (Bloomberg)
US says Ethiopia ties depend on electoral changes (AFP)
Video: U.S. Department Daily Press Briefing: May 26, 2010
(Forward to minute 02:10 for the Ethiopia comment)

Video: Inside Story, with presenter Mike Hanna – Zenawi: A source of stability?

Tadias Magazine
Election News Summary
Updated: Friday, May 28, 2010
New York (Tadias) – Ethiopia's opposition block has rejected early results from last Sunday's national elections, calling for new vote.
"Medrek and the All Ethiopia Unity Party, Ethiopia's two largest opposition parties were crushed in national parliamentary elections a few days ago. But both parties are now saying it is not over yet. They called for new elections, accusing the ruling party of intimidation, fraud, harassment and violence," VOA reports.
International organizations and the United States have expressed disapproval of the election process. A statement by National Security Council Spokesman Mike Hammer said the Obama administration has some reservations. "We are concerned that international observers found that the elections fell short of international commitments," the spokesman said. "The limitation of independent observation and the harassment of independent media representatives are deeply troubling."
Ethiopian Prime Minister Meles Zenawi, who declared victory earlier this week, has dismissed outside criticism as foreign interference – violating the sovereignty of Ethiopia.
State Department Spokesman P.J. Crowley warned: "To the extent that Ethiopia values the relationship with the United States, then we think they should heed this very direct and strong message," he said. "We value the cooperation that we have with the Ethiopian government on a range of issues including regional security, including climate change for example. So we will continue to engage this government. But we will make clear that there are steps that it needs to take to improve democratic institutions," Crawley stressed.
Opposition leaders said they may contest the results through the court system, hoping to avoid the violent street clashes of five years ago that killed nearly 200 people," AP reports.
Government spokesman Bereket Simon told The Associated Press the election was free and fair.
New York-based Human Rights Watch said Monday the weekend ballot had been corrupted.
The country's 31.9 million registered voters went to the polls to select 547 members of parliament and representatives to regional councils.
Early results show the ruling party sweeping 99 percent of announced seats.
The country's first national election since the disputed 2005 contest was preceded by an intense political season, painted by allegations of harassments and intimidations by Prime Minister Meles Zenawi's ruling party.
"As voting concludes and the results are announced, we call on all parties to reject violence," White House said. "We await the final assessments of the electoral process from independent observers, and encourage the government to address in good faith and impartially any concerns and disputes that are raised."
The vote in Ethiopia, a key American partner in the global war against terrorism, is being closely watched by some U.S. lawmakers as well as by Ethiopian-Americans – whose opinions, VOA reports, are split: some saying that Ethiopian-Americans should stay out of the debate, while others in the community have been urging a more vocal U.S. response against human rights violations in Ethiopia.
Here are related news:
Ethiopian Prime Minister Declares Victory in Election (Bloomberg)
Early results: Ethiopia's ruling party won vote (The Associated Press)
Ethiopian Ruling Party Sweeps Preliminary Election Results (VOA)
Watch Video: A Post-Election Analysis – Al Mariam Jezeera Interview

Watch Video: Polls Open in Ethiopia Marred by Intimidation Complaints (Al Jazeera)

Related:
Premier's Party Sweeps Ethiopian Vote (NYT)
EU: Ethiopian Election Unbalanced (VOA)
Governing Party Leads in Ethiopian Election (The New York Times)
Ethiopia's Meles on course for landslide election win (Reuters)
Ethiopian Party Accused of Intimidation Before Election (The New York Times)
Ethiopian Election Draws Record Turnout; Opposition Charges Fraud (VOA)
Ethiopia opposition bloc claims voter intimidation (AP)
Britain 'keeping quiet about Ethiopia repression' (Telegraph.co.uk)
Related Pre-Election News:
VOA Video: Ethiopian Diaspora Seeks Democratic Progress in Ethiopia

Video: Interview with Meles Zenawi (Al Jazeera)

More News:
Ethiopia votes, with ruling party favored to win (AP)
An Eerie Silence Precedes Ethiopia's Election (TIME)
Repression Is Alleged Before Vote in Ethiopia (The New York Times)
Critics Stifled in Ethiopia (Wall Street Journal)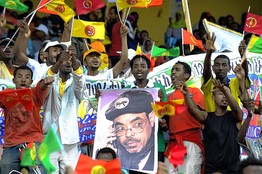 Supporters of Ethiopian Prime Minister Meles
Zenawi rally on Thursday ahead of Sunday's
elections. (Agence France-Press/Getty)
Fairness at Issue in Ethiopian Elections (VOA)
Ethiopian Government Confident Sunday's Polls Will be Credible (VOA)
Obama Urged to Speak Out On Ethiopia (Tadias)
Ethiopia's ruling party poised to win election (The Associated Press)
Ethiopia tackles ghosts of elections past (BBC).
Ethiopia's elections: Five more years (From The Economist print edition)
Ethiopia's Meles Headed for Election Win as West Pours in Aid (Bloomberg News)
Last day of campaigning ahead of Ethiopia's elections (BBC)
Ethiopian Diaspora In US Is Split Over Role in Election (Voice of America)
Experts say US Government Walks Fine Line with Ethiopia (VOA).
Divided Opposition Faces Longtime Incumbent (VOA)
Scenarios- How might Ethiopia's elections play out? (Reuters)
Election monitors arrive in Ethiopia (UPI)
Ethiopia's Biggest Electoral Prize Divided As Election Nears (VOA)
Analysis from VOA:
Experts Say There Will Be No Contest in Ethiopia's Upcoming Vote
2005 Ethiopian Election: A Look Back
—
BBC Profile: Ethiopian leader Zenawi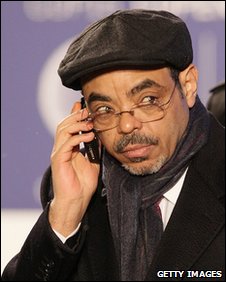 BBC Profile: Ethiopia's Merera Gudina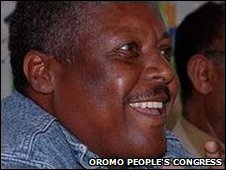 Related election news:
Ethiopian opposition says third activist killed before vote ( AFP)
Tigray, a 'Battleground State' in Ethiopian Elections (VOA)
Challengers Face Long Odds in Bid to Unseat Ethiopian Rulers (VOA)
Ethiopian TV journalist arrests worry watchdog (Times Live)
Scuffle breaks out among Ethiopian opposition (AP)
Video: Ethiopia Amharic News – Fight breaks out among Ethiopian opposition

Listen:
What do Addis Ababa residents think about the election?
(Click here to listen to VOA's Amharic program)
More election news:
Tensions mount in Ethiopia (Times Live)
Ethiopian Opposition Demands Independent Probe Into Activist's Death (VOA)
Ethiopia activist clubbed to death in 'politically motivated' murder (Guardian)
Ethiopia opposition leader flees 12-year jail term (Reuters)
Silence Not Golden In Ethiopia (VOA Editorial)
Free and fair elections in Ethiopia (The Hill)
Media Group to Ethiopia – Stop Jamming VOA Broadcasts (VOA)
Ethiopia Accuses Rights Groups, VOA of 'Smear Campaign' (VOA)
European Union to Send Monitors to Ethiopia Vote, Lawmaker Says (Bloomberg News)
VOA says Ethiopia blocks website as US row escalates (Reuters)
Ethiopian Opposition Party Elders Confront Prison Officials Over Jailed Leader (VOA)
Ethiopia Opposition barred from seeing jailed leader (Reuters)
Ethiopia blasts US for report on rights record (Sudan Tribune)
Forget about democracy (The Economist)
U.S. criticizes Ethiopia for jamming VOA broadcasts (CNN)
Candidate Slaying in Northern Ethiopia Stirs Calls for an Inquiry (VOA)
Opposition Criticizes Verdict in Killing (The New York Times)
Candidate Is Stabbed to Death in Ethiopia (The New York Times)