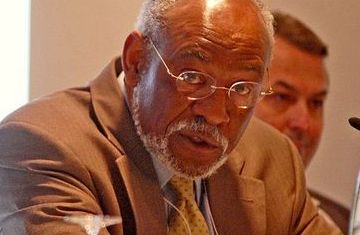 Above: United States Assistant Secretary of State for African
Affairs Johnnie Carson said Ethiopia's recent election has been
compromised by pre-vote flaws. (Photo credit: Vince Crawley)
Tadias Magazine
Election News Summary
Updated: Saturday, May 29, 2010
New York (Tadias) – The United States has expressed disapproval of the poll process in the 2010 Ethiopia election, while urging all sides to restrain from violence.
Assistant Secretary of State Johnnie Carson, President Obama's top diplomat for Africa, told Congress that Ethiopia's election failed to meet international standards and called for stronger democratic institutions in the country, a key U.S. ally in Africa.
"While the elections were calm and peaceful and largely without any kind of violence, we note with some degree of remorse that the elections there were not up to international standards," Carson said to a House of Representatives panel. "It is important that Ethiopia move forward in strengthening its democratic institutions and when elections are held that it level the playing field to give everyone a free opportunity to participate without fear or favor."
A statement by National Security Council Spokesman Mike Hammer said White House is concerned by reports of irregularities. "We are concerned that international observers found that the elections fell short of international commitments," the spokesman said. "We are disappointed that U.S. Embassy officials were denied accreditation and the opportunity to travel outside of the capital on Election Day to observe the voting."
"The limitation of independent observation and the harassment of independent media representatives are deeply troubling," he added.
Regrading election campaign problems, Hammer said: "An environment conducive to free and fair elections was not in place even before Election Day. In recent years, the Ethiopian government has taken steps to restrict political space for the opposition through intimidation and harassment, tighten its control over civil society, and curtail the activities of independent media. We are concerned that these actions have restricted freedom of expression and association and are inconsistent with the Ethiopian government's human rights obligations."
"As voting concludes and the results are announced, we call on all parties to reject violence. We await the final assessments of the electoral process from independent observers, and encourage the government to address in good faith and impartially any concerns and disputes that are raised."
Ethiopian Prime Minister Meles Zenawi, who declared victory amid the raging controversy, has dismissed outside criticism as foreign interference – violating the sovereignty of Ethiopia.
Government spokesman Bereket Simon told The Associated Press the election was free and fair.
State Department Spokesman P.J. Crowley warned: "To the extent that Ethiopia values the relationship with the United States, then we think they should heed this very direct and strong message," he said. "We value the cooperation that we have with the Ethiopian government on a range of issues including regional security, including climate change for example. So we will continue to engage this government. But we will make clear that there are steps that it needs to take to improve democratic institutions," Crawley stressed.
—
Related:
Ethiopian election stirs outrage at ruling party (Washington Times)
Video: U.S. Department Daily Press Briefing: May 26, 2010
(Forward to minute 02:10 for the Ethiopia comment)

Voice of America Video: Ethiopian Diaspora Seeks Progress in Ethiopia