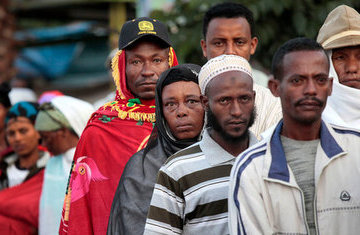 Above: Ethiopians wait to cast their vote Sunday, May 23 at
a polling station in Dukem, Ethiopia, south of Addis. (AP)
Tadias Magazine
Election News Summary
Updated: Tuesday, June 1, 2010
New York (Tadias) – Two more opposition parties on Tuesday rejected the results which handed the ruling coalition a crushing majority. "Berhan for Unity and Democracy and the Ethiopian Democratic Coalition Front said the polls were riddled with irregularities and called for a re-run," according to AFP.
Early results from the nationwide parliamentary contest showed the ruling party sweeping 99.6 percent of announced seats. Ethiopia's two largest opposition parties – Medrek and the All Ethiopians Unity Party – have already rejected the tally from last Sunday's national elections, calling for new votes, VOA reports.
International organizations and the United States have expressed disapproval of the election process. Assistant Secretary of State Johnnie Carson, President Obama's top diplomat for Africa, told Congress Ethiopia's election failed to meet international standards. "While the elections were calm and peaceful and largely without any kind of violence, we note with some degree of remorse that the elections there were not up to international standards," Carson said. A statement by National Security Council Spokesman Mike Hammer said the Obama administration has reservations about the overall electoral system . "We are concerned that international observers found that the elections fell short of international commitments," the spokesman said. "The limitation of independent observation and the harassment of independent media representatives are deeply troubling."
Ethiopian Prime Minister Meles Zenawi, who declared victory amid the raging controversy, has dismissed outside criticism as foreign interference – violating the sovereignty of Ethiopia.
State Department Spokesman P.J. Crowley warned: "To the extent that Ethiopia values the relationship with the United States, then we think they should heed this very direct and strong message," he said. "We value the cooperation that we have with the Ethiopian government on a range of issues including regional security, including climate change for example. So we will continue to engage this government. But we will make clear that there are steps that it needs to take to improve democratic institutions," Crawley stressed.
Opposition leaders said they may challenge the results through the court system, hoping to avoid the violent street clashes of five years ago that killed nearly 200 people," AP reports.
Government spokesman Bereket Simon told The Associated Press the election was free and fair.
New York-based Human Rights Watch said the ballot had been corrupted by pre-election irregularities.
The country's 31.9 million registered voters went to the polls to select 547 members of parliament and representatives to regional councils.
Early results show the ruling party sweeping 99 percent of announced seats.
The country's first national election since the disputed 2005 contest was preceded by an intense political season, painted by allegations of harassments and intimidations by Prime Minister Meles Zenawi's ruling party.
"As voting concludes and the results are announced, we call on all parties to reject violence," White House said. "We await the final assessments of the electoral process from independent observers, and encourage the government to address in good faith and impartially any concerns and disputes that are raised."
The vote in Ethiopia, a key American partner in the global war against terrorism, is being closely watched by some U.S. officials, lawmakers as well as by Ethiopian-Americans – whose opinions, VOA reports, are split: some saying that Ethiopian-Americans should stay out of the debate, while others in the community have been urging a more vocal U.S. response against human rights violations in Ethiopia.
Here is the latest:
Spotlight on the Struggle of Birtukan Mideksa (Huffington Post)
Journalist decries 'outrageously ludicrous' elections (Stanford Report)
Ethiopian election stirs outrage at ruling party (Washington Times)
NEW: Ethiopia's Ruling Party to Work with Opposition (VOA)
Video: Inside Story, with presenter Mike Hanna – Zenawi: A source of stability?

Video: U.S. Department Daily Press Briefing: May 26, 2010
(Forward to minute 02:10 for the Ethiopia comment)

Watch Video: A Post-Election Analysis – Al Mariam Jezeera Interview

Watch Video: Polls Open in Ethiopia Marred by Intimidation Complaints (Al Jazeera)

VOA Video: Ethiopian Diaspora Seeks Democratic Progress in Ethiopia

Video: Interview with Meles Zenawi (Al Jazeera)