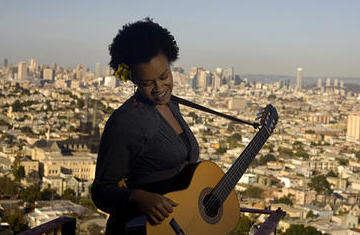 Above: After a few years behind the scenes honing her skills
at the Red Poppy Art House in San Francisco, Meklit Hadero is
taking center stage. (Photo courtesy of Nathaniel Keck)
Tadias Magazine
Events News
Published: Tuesday, May 25, 2010
New York (Tadias) – San Francisco- based songstress Meklit Hadero is scheduled to make an upcoming concert appearances in the East Coast, beginning with Bernos' 4th anniversary celebration this coming weekend in Washington, D.C. and at Le Poisson Rouge in New York on June 1st.
The Ethiopian-born artist has been attracting national attention with the release of her new album On A Day Like This. Reviewers have compared her voice to that of the legendary singer Nina Simone. "Once you hear her smooth and silky voice it will be hard to forget it," NPR's Allison Keyes recently reported.
"It is an honor to have Meklit Hadero perform at our 4th year anniversary," said Beshou Gedamu, business partner at Bernos. "She is an amazing artist with a powerful voice that resonates."
Hadero obtained a bachelor's degree in Political Science before moving to San Francisco to pursue her true love – music. NPR's guest host described Hadero's sound as "a unique blend of jazz, Ethiopia, the San Francisco art scene and visceral poetry." "It paints pictures in your head as you listen," she adds.
Meklit Hadero "Leaving Soon" music video from Salvatore Fullmore on Vimeo.
–
If You Go:
Washington, DC
The Warehouse Loft
May 29, 2010 | 8 pm
Live Perfomance featuring B. Sheba & Munit
Click here for more info.
New York
LE POISSON ROUGE
Meklit Hadero with The Olatuja Project
June 1, 2010| 7 pm
Click here for more info.
Listen here to NPR's Interview with Meklit Hadero:
—