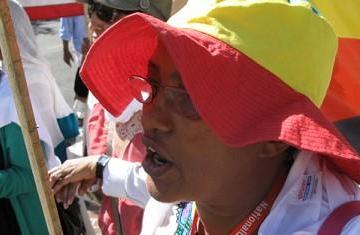 Above: A group of U.S. Congressmen have joined the call by
Ethiopian-American activists in urging President Obama to
speak out ahead of the polls this weekend. (Photo – VOA)
Tadias Magazine
By Tadias Staff
Published: Friday May 21, 2010
New York (Tadias) – As Ethiopia prepares for National Elections on Sunday, May 23rd, VOA reports that Ethiopian-Americans in the United States are split: some saying that Ethiopian-Americans should stay out of the debate, while others in the community are demanding that President Barack Obama speak out against the imprisonment of opposition leader, Judge Birtukan Medeksa, who will not be participating in Sunday's election.
The protesters' call was joined this week by a bipartisan group of U.S. lawmakers who urged the Obama administration to speak out against human rights violations in Ethiopia ahead of the polls this weekend, The Washington Times reports.
In a letter to Johnnie Carson, Assistant Secretary of State for African Affairs, the Lawmakers expressed concern that the upcoming vote will not be free and fair.
"Like most Americans, we believe that our country must never be silent about grave human rights abuses," the Lawmakers wrote. "Yet in recent years our government has rarely spoken out about the Meles government's human rights violations."
According to the report, the letter to Mr. Carson was signed by: Reps. Christopher H. Smith, New Jersey Republican; Trent Franks, Arizona Republican; James P. Moran, Virginia Democrat; Dana Rohrabacher, California Republican; Ed Royce, California Republican; Frank R. Wolf, Virginia Republican; and Bob Inglis, South Carolina Republican.
Here are more news updates on the election:
Ethiopian Prime Minister Declares Victory in Election (Bloomberg)
Early results: Ethiopia's ruling party won vote (The Associated Press)
Ethiopian Ruling Party Sweeps Preliminary Election Results (VOA)
VOA Video: Ethiopian Diaspora Seeks Democratic Progress in Ethiopia

Audio: Does Ethiopia have an image problem? (Listen at BBC.com)
Ethiopia's elections: Five more years (From The Economist print edition)
Repression Is Alleged Before Vote in Ethiopia (The New York Times)
Last day of campaigning ahead of Ethiopia's elections (BBC)
Ethiopia's Meles Headed for Election Win as West Pours in Aid (Bloomberg News)
Ethiopian Diaspora In US Is Split Over Role in Election (Voice of America)
Video: Interview with Meles Zenawi (Al Jazeera)

ELECTION NEWS
Experts say US Government Walks Fine Line with Ethiopia (VOA).
Divided Opposition Faces Longtime Incumbent (VOA)
Scenarios- How might Ethiopia's elections play out? (Reuters)
Election monitors arrive in Ethiopia (UPI)
Ethiopia's Biggest Electoral Prize Divided As Election Nears (VOA)
Related from VOA:
Experts Say There Will Be No Contest in Ethiopia's Upcoming Vote
2005 Ethiopian Election: A Look Back
—
BBC Profile: Ethiopian leader Zenawi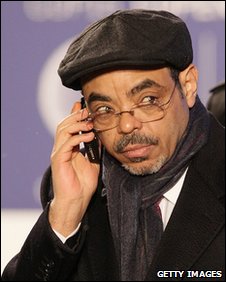 BBC Profile: Ethiopia's Merera Gudina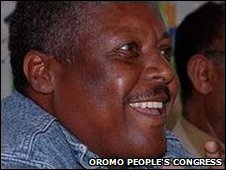 Related election news:
Ethiopian opposition says third activist killed before vote ( AFP)
Tigray, a 'Battleground State' in Ethiopian Elections (VOA)
Challengers Face Long Odds in Bid to Unseat Ethiopian Rulers (VOA)
Ethiopian TV journalist arrests worry watchdog (Times Live)
Scuffle breaks out among Ethiopian opposition (AP)
Video: Ethiopia Amharic News – Fight breaks out among Ethiopian opposition

Listen:
What do Addis Ababa residents think about the election?
(Click here to listen to VOA's Amharic program)
More election news:
Tensions mount in Ethiopia (Times Live)
Ethiopian Opposition Demands Independent Probe Into Activist's Death (VOA)
Ethiopia activist clubbed to death in 'politically motivated' murder (Guardian)
Ethiopia opposition leader flees 12-year jail term (Reuters)
Silence Not Golden In Ethiopia (VOA Editorial)
Free and fair elections in Ethiopia (The Hill)
Media Group to Ethiopia – Stop Jamming VOA Broadcasts (VOA)
Ethiopia Accuses Rights Groups, VOA of 'Smear Campaign' (VOA)
European Union to Send Monitors to Ethiopia Vote, Lawmaker Says (Bloomberg News)
VOA says Ethiopia blocks website as US row escalates (Reuters)
Ethiopian Opposition Party Elders Confront Prison Officials Over Jailed Leader (VOA)
Ethiopia Opposition barred from seeing jailed leader (Reuters)
Ethiopia blasts US for report on rights record (Sudan Tribune)
Forget about democracy (The Economist)
U.S. criticizes Ethiopia for jamming VOA broadcasts (CNN)
Candidate Slaying in Northern Ethiopia Stirs Calls for an Inquiry (VOA)
Opposition Criticizes Verdict in Killing (The New York Times)
Candidate Is Stabbed to Death in Ethiopia (The New York Times)