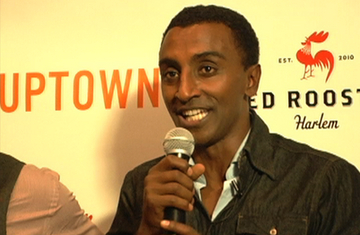 Tadias Magazine
Events News (Video)
Published: Friday, December 17, 2010
New York (Tadias) – Chef Entrepreneur Marcus Samuelsson opened the doors of Red Rooster Harlem to friends, neighbors and media at an event last month designed to give a sneak peak of his new restaurant.
The evening, co-hosted by Uptown Magazine, attracted an eclectic group of New Yorkers – including Harlem residents, business leaders, politicians, artists, museum curators, TV personalities and more. The two-floor space, decorated for the event with stunning photographs featuring local artists, includes a lounge downstairs where guests were treated to a memorable piano performance and live DJ music.
In the following video, Marcus gives Tadias a brief tour of Red Rooster Harlem. Samuelsson notes the availability of this new space for world music entertainment programs, including live shows by Ethiopian singers and performers.
WATCH: