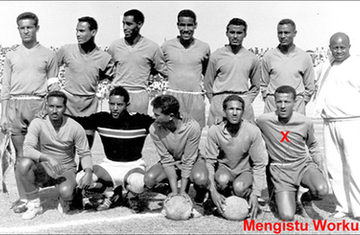 Above: Mengistu Worku (Bottom R) was an Ethiopian soccer
player recognised as Ethiopia's best soccer player of all time.
(The victorious Ethiopian team at the 3rd African Cup, 1962.)
Addis Ababa, Ethiopia – Mengistu Worku 70, Ethiopia's greatest footballer of all time and the last head coach who took the Ethiopian national football team to the African Nations Cup in Libya in 1982, has died here today.
Mengistu recently returned home after undergoing medical treatment in Bangkok, Thailand for the two years.
The 3rd African Cup winner has been in Bangkok for two years undergoing medical treatment but his condition has worsened. Mengistu was said to have returned home along with a medical doctor and special medical equipments for follow-up treatment. {Read more}
Related (Photos and bio):
Ethiopian soccer legend Mengistu Worku passed away (Ethiopian Review)
Watch: A tribute to Ethiopian Soccer Legend Mengistu Worku