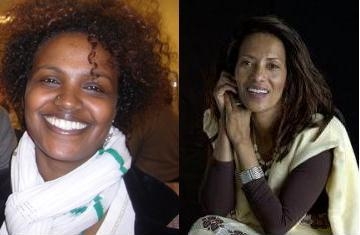 Above: Beejhy Barhany, founder and director of BINA, and Bizu
Riki Mullu, founder of Chassida-Shmella. (Bizu photo via UJF.org)
Tadias Magazine
By Dana Rapoport


Published: Monday, December 20, 2010
New York (Tadias) – "My journey is nothing special," said Beejhy Barhany at the Hue-Man Bookstore, on 125th street in Harlem. "It's the every-Israeli, ordinary path."
In many ways she was right. The curly-haired young Ethiopian woman with a pearl knitted sweater and a ton of charisma, Barhany, 34, pursued a common route for a young Israeli: graduation, military service, backpacking in South America, and finally – New York.
Barhany, founder and director of BINA, Beta Israel of North America, an Ethiopian-Jewish organization in New York, is driven by the same curiosity and entrepreneurial instinct that brought some 25,000 Israelis as immigrants to the city. But going three decades back, Barhany and approximately 500 Ethiopian Jews living in New York, share a saga of traveling that is everything but ordinary.
"We left everything behind — land, property, cattle — when my relatives in Israel wrote to us in a letter: "Now is the time to come," she recalled of that middle-of-the night in 1980, when the three-year journey began from the northern province of Tigray, Ethiopia. Barhany was four-years–old.
The term for Ethiopian Jews in Amharic is Falasha, a term of derision as outsiders or foreigners. They call themselves Beta Israel, "The House of Israel."
For over 2,500 years the Beta Israel community observed Orthodox Judaism, but for hundreds of years, the Ethiopian Jewry was unknown or disregarded by the rest of the Jewish world.
The regime of Colonel Mengistu Haile Mariam, and persecution by different tribes in Ethiopia, prompted the Israeli government, with no diplomatic relations with Ethiopia, to facilitate the rescue of thousands of Beta Israel.
Barhany and the group of people from her village walked for two months, until they arrived in Sudan. Three years later, they were given the green light to leave, by car, from Khartoum to Kenya, from Kenya to Uganda, then to Italy and finally – to Israel.
With a huge support and millions of Jewish American dollars, in 1991 a secret negotiation with the Ethiopian government was made, and within 36 hours, with 34 jumbo jets, "Operation Solomon" brought a total of 15,000 Ethiopian Jews to Israel.
One of those young children who landed in Israel that year is Angosh Goshu (Dorit). After six years in Brooklyn, her memory of the emotional arrival in Israel seemed even more contrasted. "We saw toilets, bathrooms and things like that, things we never saw before," she said during an interview in a busy, fluorescent-lit Dunkin' Donuts shop.
For the thirty thousand agriculturally trained, Amharic speaking Ethiopian immigrants, Israel, in the midst of the high-tech boom, was a very different landscape.
After she completed her Army service, like Barhany, Gogshu too, found herself emigrating for the second time in her life. This time, to New York.
She lives with her brother Neo, on Church Avenue and is studying to be a nurse. Between her job and her studies she helps Bizu Riki Mullu, founder of Chassida Shmella, to foster a community and promote Ethiopian culture and tradition.
There's another advantage to life in New York. "In Israel we are different, we stand out more than we do here," Barhany said. "It might be easier for a non-Ethiopian to find a job there, than it is for Ethiopians… here it can be easier, no one will categorize you."
A recent Israeli study found that, roughly 20 years after they came to Israel, unemployment in the Ethiopian community is more than double than in the whole Jewish population in Israel. Forty percent of Ethiopians are jobless or are not looking for one. It also found that only sixteen percent of Ethiopian Israelis are high-school graduates.
Like many of their peers in their early twenties, they decided to come to New York. Unlike most, however, they founded, or helped to start two non-profits: BINA and Chassida Shmella.
Chassida Shmella is the word stork in Hebrew and Amharic. It echoes an old tradition, of asking the storks as they migrate from Europe, (over Israel) to Africa: "Stork, stork, how is our beloved Jerusalem?"
These two organizations help Ethiopians network in the big city as well as help them to preserve their tradition.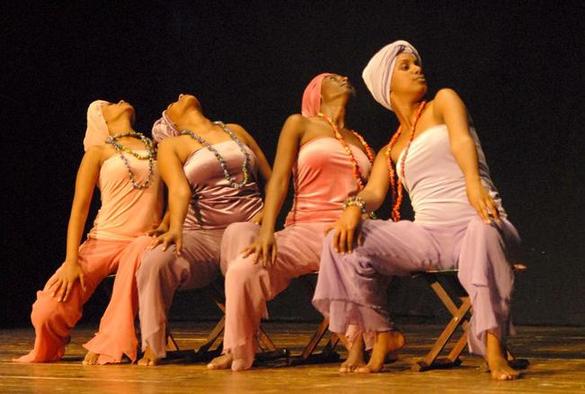 Above: The renowned Ethiopian-Israeli BETA Dance Troupe was one of the highlights at the 2010 Sigd
festival in New York hosted by Chassida Shmella, The Ethiopian Jewish Community of North America,
and the 92nd Street Y Resource Center for Jewish Diversity.
The community has grown in the last five years but these organizations still struggle for support. Their community is too small to receive funding from larger organizations, and they are having trouble growing, because they lack support for education, for Jews and non-Jews about Ethiopia's Jewish heritage.
Shabbat Dinners with Ethiopian food, Annual Ethiopian Film Festival and other cultural programs by BINA and Chassida Shmella are much needed. It's crucial not only to strengthen the sense of community, but also to overcome ignorance from American Jews and even Israeli New Yorkers.
"Ninety Nine percent of people did not believe that I was Jewish," said Goshu, 28, wearing a silver Star-of-David pendant. "And then, there were the Israelis, who asked 'What, are you Ethiopian? What are you doing here? Were you unhappy in Israel?'" She replied with the same question. "Why are you here? Were you unhappy there?"
American Jewish foundations, which were key players in the Ethiopian Jews' exodus, replied to Barhany's request: "Isn't it enough we brought them to Israel?"
During the Sigd holiday festival in the Upper East Side 92Y in September, Mullu, dressed in a traditionally-embroidered white dress, said they still need a lot of help.
"We are reaching out for everybody, every organization, every individual to be involved, to help us grow this organization, to help a younger generation be a part of the Jewish nation."
Reaching out to everyone has worked. Barhany said that more than thirty percent of the Ethiopian-American community supports and participates in the community's events. With fewer resources but a lot of enthusiasm, their help is crucial for these organizations' growth.
After ten years in New York, Barhany is no longer a stranger, but she's not ready to announce the end of her journey just yet.
"I call myself the wandering Jew," she said.
Like the storks, she will keep traveling. Israel, and Ethiopia are her next stops, but not the last.
—
About the Author:
Dana Rapoport is a journalist based in New York. She worked as a foreign news editor for Israel's largest broadcast news channel, Channel2, before attending the CUNY Graduate School of Journalism. Rapoport also holds a BA in History and Theatre from Tel Aviv University. She hopes to keep covering the Ethiopian community here, and in Israel.