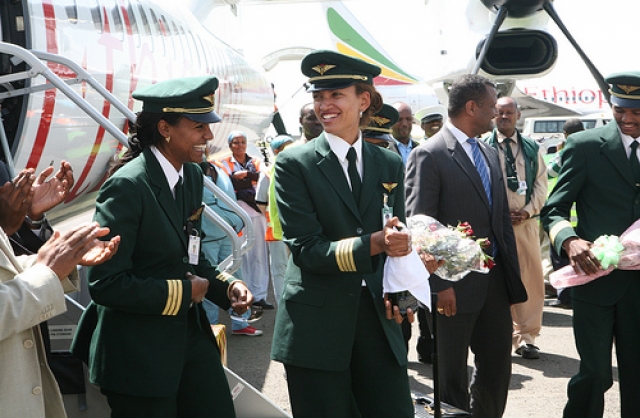 Tadias Magazine
By Tadias Staff
Published: Friday, October 15, 2010
New York (Tadias) – She may not be the first Ethiopian woman pilot, but Captain Amsale Gualu Endegnanew is just as pioneering. She is the first female to become captain in the history of Ethiopian Airlines.
According to the company, the pilot was at controls of a next generation Bombardier airplane for her historic flight, which she performed over domestic routes on October 14, 2010. "Captain Amsale proudly took off her first flight from the left hand seat of the flight deck of a Q-400 aircraft from Addis Ababa to Gondar then to Axum and finally returned back to Addis Ababa after a total of 3.6 flight hours," the airline announced in a press release.
"Captain Amsale joined Ethiopian Airlines Pilot Training School on July 10, 2000 and started her career as first officer on November 26, 2002. Since then, she has trained and worked on Fokker-50, 757 and 767 aircraft as first officer. Captain Amsale has been able to complete successfully all the necessary training requirements and passed through rigorous checks to gain her four stripes. She has a total of 4475 flight hours under her belt when she becomes the commander-in-chief of her flight."
In a brief statement following her groundbreaking flight, Captain Amsale said this moment has been a long time coming. "It is a great privilege to become the first female captain of the national carrier," she said. "I have been trained and passed through various ladders at Ethiopian Airlines."
"The company has been very supportive of my efforts to realize my vision of becoming a captain," she added.
Congratulating her on the occasion, Weyzero Elizabeth Getachew, a Senior Vice President for Human Resource Management and the highest ranking female executive in the airline said, "Captain Amsale's success is a great achievement on her part and it is also an achievement for the airline. It is my hope that other females will be inspired by her success and Ethiopian will see more female candidates in the near future." The country's flag-career currently has four female pilots working as first officers.
Who is Ethiopia's first female pilot?
Some say Weyzero Asegedech Asefa, who became a pilot post World War II, is the first Ethiopian female pilot. While others argue that Weyzero Mulumebet Emeru, whose flight training was interrupted when the Italians envaded Ethiopia in 1936, holds the title of first Ethiopian female pilot.
–
More photos courtesy of Ethiopian Airlines via Nazret.com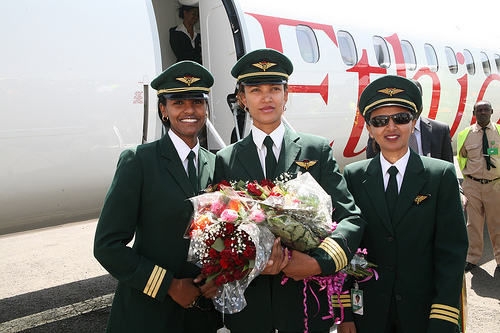 Learn more about Ethiopian airlines at ethiopianairlines.com.
Related:
Interview with Girma Wake: Former CEO of Ethiopian Airlines (Capital Ethiopia)
Video: Ethiopian TV on the First Female Captain at Ethiopian Airlines