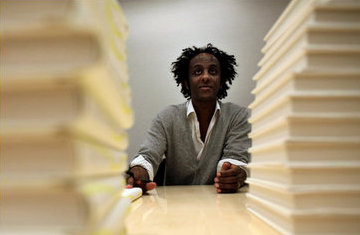 Above: Dinaw Mengestu is a journalist as well as a novelist.
He is pictured here with copies of his "How to Read the Air."
Books
The New York Times
By LARRY ROHTER
Published: October 15, 2010
Early in Dinaw Mengestu's new novel, "How to Read the Air," the main character, a troubled young Ethiopian-American named Jonas Woldemariam, goes to a job interview, only to be asked, "Where's that accent of yours from?" by a prospective boss baffled by his seemingly alien provenance. "Peoria," Jonas replies, puzzling his interviewer even further.
Life has sometimes been like that for Mr. Mengestu, too. His name, "so clearly foreign and other," he admits, and pedigree can make it difficult for some of the people he encounters to see past an ostensibly exotic exterior to the very American core underneath.
But as a novelist, Mr. Mengestu, 32, has made such doubts and confusion about identity and belonging his stock in trade. His work is populated by exiles, refugees, émigrés and children of the African diaspora, all struggling both to find a place in the American landscape and to make sense of their attenuated relationship to the world they left behind.
"It's less about trying to figure out how you occupy these two cultural or racial boundaries and more about what it's like when you are not particularly attached to either of these two communities," he said recently in an interview in Manhattan at the offices of his publisher, Riverhead Books.
Read more at The New York Times.
Listen to NPR's interview with Dinaw Mengestu:
'Heaven Bears' Author Finds Beauty In 'The Air'

Related:
'Dinaw Mengestu's novel of the Ethiopian conflict's legacy (The Seattle Times)
Immigrant tales and a fateful road trip (The Miami Herald)
Excerpt: 'How to Read the Air' (penguingroup.com)
Book Review: 'How to Read the Air' by Dinaw Mengestu (The New York Times)
Book Review: 'The Beautiful Things That Heaven Bears' by Dinaw Mengestu (NYT)
The Daily Beast speaks to Dinaw Mengestu
Cover Image: Ethiopian American author Dinaw Mengestu (Photo: Ed Ou/The New York Times)