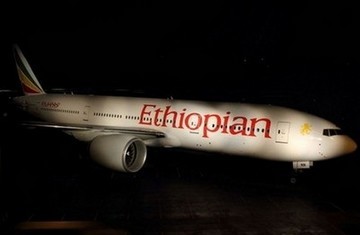 Above: Ethiopian Airlines took delivery of of its first 777, the
African continent's first -200LR and the 900th 777 to roll off
of Boeing's assembly lines. (Photograph by Jeremy Lindgren)
Click here for Exclusive Photo Gallery at NYC Aviation
Video: Africa seen as a growing market for Boeing – (KING 5 News)

By Glenn Farley – KING 5 News Aviation Specialist
NWCN.com
Posted on November 17, 2010 at 6:46 PM
EVERETT, WA. — Outside of Boeing's gigantic factory, the company reached a milestone Wednesday. Boeing delivered its 900th 777 airliner.
The buyer of the 900th 777 (and four other 777-200LR's) is Ethiopian Airlines. The east African country is the link that connects Africa to the rest of the world.
The LR in 777-200LR stands for "long range," and the planes Ethiopian Airlines bought should do the job, for example, connecting Washington, D.C. direct to Addis Ababa, the airline's hub.
Ethiopian Airlines already has a sizable Boeing fleet, with 737′s, 757′s, and 767′s. It has standing orders for 787 Dreamliners and more 737′s, in addition to the big continent-connecting 777′s. Their fleet is one of the world's youngest.
Related:
Plane Diverted To Boston After Passenger Dies
Ethiopian Airlines Appoints First Female Captain