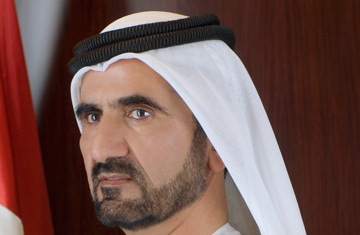 Tadias Magazine
By Tadias Staff
Published: Friday, May 1, 2009
New York (Tadias) – The Ruler of Dubai has been honored with an award by US Doctors for Africa (USDFA) in recognition of his global humanitarian efforts in Africa, the media office for UAE Vice President and Prime Minister announced.
The award was given last week in Los Angeles at the successful first-ever U.S.-based health summit for African First Ladies hosted by USDFA, a California based non-profit organization, founded by Ethiopian-born social entrepreneur Ted Alemayuhu.
"Accepting the award on behalf of Sheikh Mohammed, Omar Obaid Al Shamsi, Charge d' Affairs at the UAE Embassy in Washington, delivered a special message from His Highness, reaffirming his commitment to supporting the developing world, with special focus on access to health care and education in Africa," noted the statement from United Arab Emirates.
The UAE media office announced that "the award is a testament to Sheikh Mohammed's charitable contributions, and drew attention to Dubai Cares, a humanitarian initiative that seeks to provide education to children in impoverished parts of the world, and Noor Dubai, which aims to provide treatment for eye diseases and blindness for over one million people around the world."
The event, which included a performance by Natalie Cole and a luncheon hosted by California First Lady Maria Shriver, was attended by several African First Ladies and Sarah Brown, wife of UK Prime Minister Gordon Brown, as well as CEOs of international corporations and Hollywood stars.
—
USDFA Hosts Health Summit for African First Ladies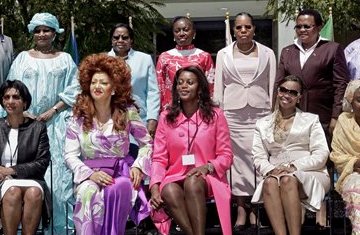 Above: First Ladies of African countries pose for photo,
Monday, April 20, 2009, at the African First Ladies Health
Summit in Los Angeles. (AP Photo/Nick Ut).
Tadias Magazine
By Tadias Staff
Published: Wednesday, April 22, 2009
New York (Tadias) – First Ladies from several African countries assembled for a successful first-ever U.S.-based health summit on Monday, April 20, 2009 in Los Angeles. Read more.