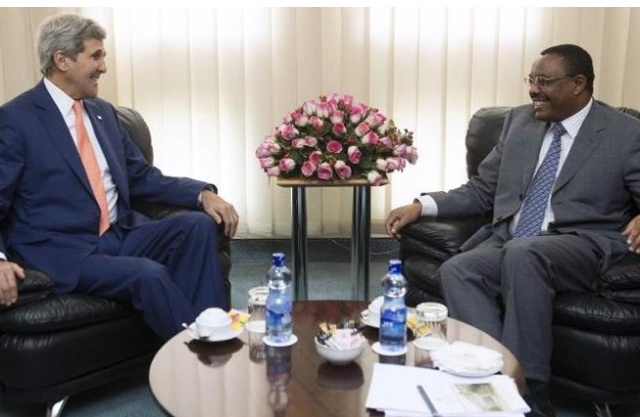 May 1st, 2014
Addis Ababa – US Secretary of State John Kerry urged Ethiopia on Thursday to allow greater freedoms for civil society and journalists, expressing concern for a group of bloggers and journalists arrested last week.
"They need to create greater opportunities for citizens to be able to engage with their fellow citizens and with their government by opening up more space for civil society," Kerry told reporters.
Rights group accuse Ethiopia of having one of the most closed press environments in the world.
"I am raising a very legitimate concern, we are concerned about any imprisoned journalist here or anywhere else," Kerry added, following a meeting with Ethiopian Prime Minister Hailemariam Desalegn.
Washington is one of Ethiopia's largest donors, and Kerry urged Addis Ababa to support a free press as an essential precursor to a legitimate democracy.
"The work of journalists, whether it's print journalism or the Internet or media of other kinds, makes societies stronger, makes them more vibrant and ultimately provides greater stability and greater voice to democracy," he said.
Nine people were arrested last week on charges of "serious criminal activities". Rights groups said they were journalists and bloggers targeted in a sweeping crackdown against free speech.
US Secretary of State @JohnKerry speaking in #Ethiopia on the press: "the free market place of ideas matters just as much as free markets"

— BBC Africa (@BBCAfrica) May 1, 2014
US Secretary of State @johnkerry speaking in #Ethiopia about journalism: "the work of journalists… makes societies stronger".

— BBC Africa (@BBCAfrica) May 1, 2014

—
Related:
Jailed Bloggers Spark Ethiopia Trend on Social Media (BBC News)
Kerry Responds to Kristof 's Tweet About Arrests of Bloggers in Ethiopia (TADIAS)
Ethiopian Government Charges Journalists With Inciting Public Violence (VOA News)
Nine journalists and bloggers arrested in Ethiopia ahead of Kerry visit (The Guardian)
Ethiopia jails nine journalists, renews press crackdown (CPJ)
Arrests Upstage Kerry's Ethiopia Visit (Human Rights Watch)
Six Members of Zone Nine Blogging Collective Arrested in Ethiopia (TADIAS)
Ethiopia: Multiple arrests in major crackdown on government critics (Amnesty.org)
Kerry Going to Ethiopia: Will He Stand for Free Press? (Inner City Press)
Six Members of Blogging Collective Arrested in Ethiopia (Global Voices)
World Press Freedom Day 2014 (TADIAS)
Join the conversation on Twitter and Facebook.