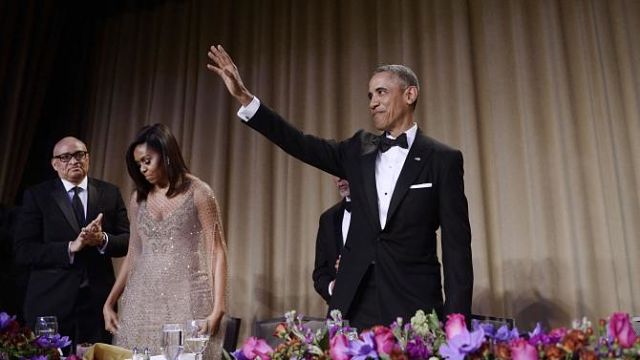 BY: ANGELA BRONNER HELM

Hands down, President Obama nailed his final White House correspondent's dinner. POTUS was in tip-top comedic form last night, and his eighth and final 'nerd prom' was filled with pointed sarcasm, witty barbs, surprise video vignettes and wistful nostalgia.
As expected, the first lady, Michelle Obama, who never disappoints when its time to step out, continued to impress. She slaaaaaaayed in Givenchy Couture, with a well-fitted body-hugging dress and a sparkling crystal-embellished sheath layered on top. (The president: "Michelle has not aged a day.")
As per usual, politicians and journalists bore the brunt of most jokes, but this time, the press got a lecture from the president about their duty ("… In such a climate it's not enough just to give people a megaphone. And that's why your power and your responsibility to dig and to question and to counter distortions and untruths is more important than even ever.") The media was also skewered by host Larry Wilmore, who was unsparing in his attacks on a sometimes tone-deaf and still-in-2016 not-diverse-enough fourth estate.
Watch: President Obama's hilarious final White House correspondents' dinner speech:
—
Related:
White House Correspondents' Dinner: Obama's best quotes – CNN.com
The Obamas Refuse to Give in to Haters — The Washington Post
Video: President Obama Shows His Coptic Cross From Ethiopia — The White House
Obama Aide Yohannes Abraham Gives Keynote Address at YEP's 5th Anniversary Gala
Join the conversation on Twitter and Facebook.