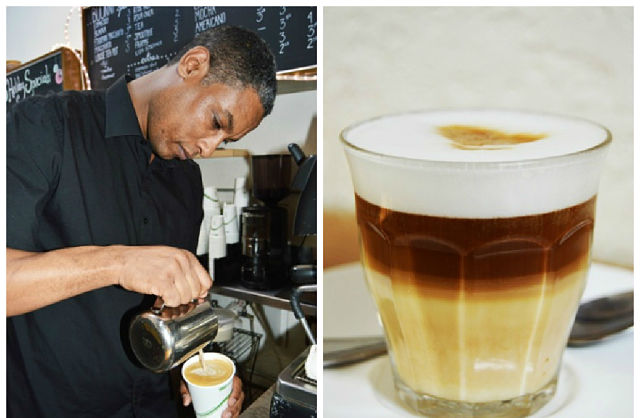 Tadias Magazine
By Tadias Staff
Published: Sunday, May 3rd, 2015
New York (TADIAS) — Last year we featured an interview with Elias Gurmu and his wife, Sarina Prabasi, owners of Café Buunni, a specialty coffee shop in New York City that offers certified organic and micro-roasted coffee sourced from Ethiopia. Café Buunni opened in 2012 soon after the owners had relocated to New York from Addis Ababa. Elias and Sarina met in Ethiopia several years ago while Sarina was working for a non-profit organization and Elias was employed as a distribution agent for DKT International.
The Guardian followed up with the couple this week in a piece entitled, Ethiopian Coffee Shops Sprout up Across the US…Thanks to Starbucks, highlighting Café Buunni as one of several Ethiopian-owned cafes that have opened in major American cities despite the obvious competition from mega corporations like Starbucks.
Café Buunni is "the only Ethiopian-owned (technically co-owned, as Prabasi is originally from Nepal) and run coffee shop in New York City. But it's one of a dozen coffee houses that have been popping up across the country, including in Chicago; Washington, DC; Minnesota's Twin Cities; and San Francisco," writes Nina Roberts in the Guardian.
"The trend is a sign of the growing number of Ethiopian immigrants in the US. It's also a testament to the country's gourmet coffee revolution. And that, Prabasi says, is thanks – at least partly – to Starbucks."
The Guardian adds: "Unlike the nearby Washington Heights Starbucks, Café Buunni has a distinct neighborhood feel. The full-bodied aromas of Yirgacheffe, Harrar, Limu and other prized Ethiopian coffees have long replaced the smells of leather and shoe polish. The towering Gurmu is often stationed behind the gleaming espresso machine, young baristas working around him. From its first week in operation, the cafe has become a neighborhood sensation. It is nearly always full, with a line out the door on weekday mornings and weekends, and goes through 200lbs of coffee a week. It has also exceeded all of its owners' financial expectations, breaking even in a mere six months and turning a profit soon afterward, Prabasi says."
Read the full article and watch video at The Guardian »

—
Related:
From the Birthplace of Coffee Cafe Buunni Serves Ethiopian Organic Specialty Coffee (TADIAS)
Join the conversation on Twitter and Facebook.