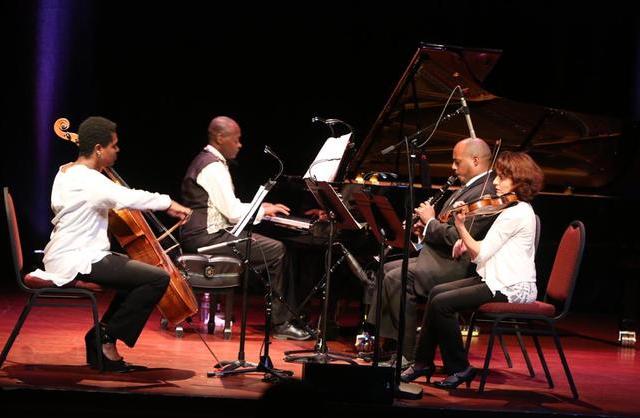 By Michael J. West
"There is no place in Ethiopia where Girma could do this!" an immigrant from Addis Ababa explained during Sunday night's intermission at Bethesda Blues & Jazz Supper Club. "People there don't pay attenton to classical music. It's all cultural, traditional music." Pianist and composer Girma Yifrashewa, then, is as unique in his homeland as he is in the United States: a man who has studied the European piano repertoire and has applied its devices to Ethiopian traditional music. At the club, he showcased both traditions in one of this year's most mesmerizing concerts.
Yifrashewa made headway in the States with the release of 2014's "Love & Peace," featuring five original compositions for solo piano. (NPR named one piece, "Sememen," its song of the year for classical and jazz.) But with the exception of the opener, a somber new piece dedicated to the recent Ethiopian victims of the Islamic State, his first set on Sunday was all repertory. His choices, though, were very revealing: heavy on Chopin (who wrote three of the seven selections), with his static harmony and dense latticework, and nearly all waltzes, including Tchaikovsky's "Autumn" and Liszt's "Consolation No. 3," as well as his own composition.
This formed important context; waltz time (3/4 and 6/8) is very important in Ethiopian music, and Chopin, as became clear in the second half, is a major influence on Yifrashewa's composing. They were also beautiful performances in their own right, Yifrashewa employing a tenderness of tone and light rhythmic touch that added heft to his more emphatic attack on pieces by Chopin and Schumann.
Read more at The Washington Post »

—
Join the conversation on Twitter and Facebook.