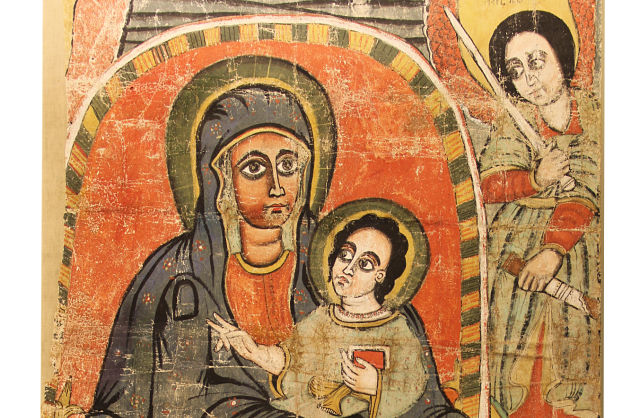 Press release
The Museum of Russian Icons
The Museum of Russian Icons is opening a new mini-exhibit, From the Vault: Icons of Ethiopia, on Saturday, May 20, with a special members-only reception on Thursday, May 18. This exhibit, which will run through August 13, features a mix of Ethiopian icons, silver hand crosses, and artifacts from the Museum's collection dating from the 19th and 20th century. Many of the icons were purchased from Ikon Gallery in Berlin, Germany between 2011 and 2014 including a Mother of God fresco, from the late 18th century that had been removed from the wall and transferred to canvas. "This very rare icon is one of the great treasures of the Museum's collection," notes Museum Curator Kent Russell.
Ethiopian iconography, which didn't appear until the 16th century, is easily recognized by the stylized and graphically bold figures with large, almond-shaped eyes painted in bright and vivid colors. These icons could be found in monasteries, churches, and the homes of the wealthy.
A newly acquired "magic scroll" will also be on view in the exhibit. This traditional Ethiopian art form is based on ancient beliefs that illnesses and other crises were the work of demons. A cleric of the Ethiopian Church would create the scroll, customized to the height of the patron and inscribed with healing prayers, and stories of saints and angels triumphing over Satan. They were written in Ge'ez, the liturgical language of Ethiopia. The scrolls were believed to have protective and healing powers, and were always carried by the owner. Russell says, "The practice of creating and using magic scrolls continues today, despite attempts by Church officials to eliminate what they see as a superstitious tradition."
–
If You Go:
Thursday, May 18, 7:00-9:00PM
Free for members and their guests.
Please RSVP by May 12 to (978) 598-5000 x121
http://www.museumofrussianicons.org
Join the conversation on Twitter and Facebook.