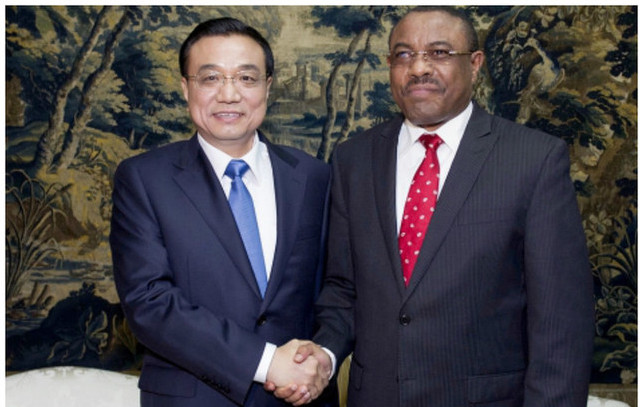 Reuters
May 6th, 2014
China and Ethiopia have signed more than a dozen agreements aimed at shoring up burgeoning ties between the world's second-largest economy and the African continent that saw their trade top $200bn last year.
The agreements were signed on Sunday after Chinese Prime Minister Li Keqiang arrived in the Ethiopian capital Addis Ababa for the first leg of his four-nation tour of Africa.
The visit is Li's first trip to Africa since he became premier last year, and follows a trip to the continent by President Xi Jinping in March 2013, when he renewed an offer of $20bn in loans to Africa between 2013 and 2015.
Africans broadly see China, which funded the construction of the African Union headquarters in Addis Ababa, as a healthy counterbalance to Western influence. However, there are growing calls from policymakers and economists for more balanced trade relations.
As he embarked on his trip, Li acknowledged "growing pains" in China-Africa cooperation.
In Ethiopia, Chinese firms have invested heavily in recent years with their worth swelling well over $1bn in 2014, according to official figures.
Beijing is also a key partner in Ethiopia's bid to expand infrastructure such as roads, railways and telecom services.

—
Related:
China Vows to Avoid 'Colonial' Path in Africa: What Will It Do Instead? (CS Monitor)
Chinese PM in Ethiopia as Part of Africa Tour (VOA News)
China signs deals with Ethiopia as premier Li Keqiang begins Africa tour (ABC)
Chinese premier starts Africa tour with visits to Ethiopia, AU headquarters (Xinhua)
Video Exclusive: Ethiopian President talks about his stay in China (CCTV)

Watch: AU welcomes China's premier Li Keqiang

Join the conversation on Twitter and Facebook.