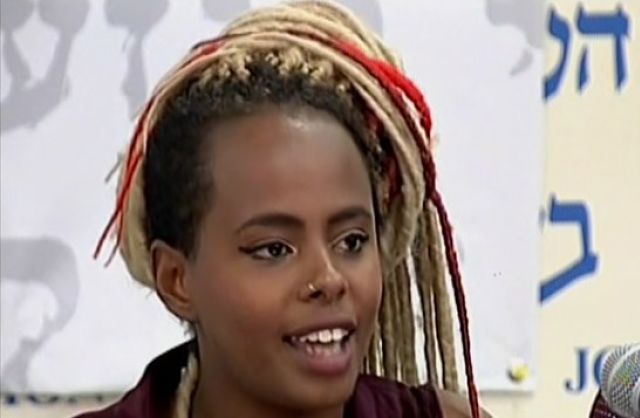 BY STUART WINER
Protest leaders say charges against those arrested at demonstration should be dropped, ask for improvements in housing, education
The leaders of a protest movement alleging systemic discrimination against the Ethiopian-Israeli community demanded on Sunday that the government improve education and housing, and set up ministerial committees to address Ethiopian needs. They also demanded that charges against community members arrested at a recent riot in Tel Aviv be dropped.
At a press conference in Tel Aviv, a panel of activist leaders expressed their frustration with what they said was the government's shortcomings in addressing the quality of life of the Ethiopian-Israeli community.
"The decision makers neglected the Ethiopian community and ignored the harsh realities, in which an entire generation feels that it is not part of society and has no place in it," said Inbar Bugale, one of the leaders of the movement, reading from a prepared statement.
Members of the Ethiopian-Israeli community say they are protesting years of institutional racism and discrimination, as well as ongoing police brutality. The release of a video showing police beating an Ethiopian-born soldier, apparently unprovoked, sparked the protests last month.
The activists stated Sunday that not only was the national government to blame for the situation, but also the local authorities. They called for greater monitoring to ensure that the Ethiopian community is not marginalized.
"There should be no discrimination toward the community. They should treat us like every other citizen," Bugale said.
Bugale rejected Prime Minister Benjamin Netanyahu's call last week for the establishment of a ministerial committee to assess the situation of the Ethiopian community and claimed that three years ago, Netanyahu had publicly declared that "there is no place in Israel for racism.
"We will not give up just because of Netanyahu's announcement to set up a ministerial committee; we have already heard that from the prime minister," she related. "Then, just as today, he promised to root out racism; then, too, he promised to fight it."
Read more and watch video at timesofisrael.com »
—
Related:
A Message from Tebeka – Legal Aid & Advocacy for Ethiopian Israelis (Press Release)
Soldier Becomes Unlikely Face of Ethiopian-Israeli Discontent (Video)
Ethiopian-Israeli Protest in Tel Aviv Turns Unusually Violent (Raw Video)
Israel's Ethiopians Protest in Jerusalem (The Associated Press)
Join the conversation on Twitter and Facebook.